Two thousand and four was the year of the biopic – in terms of number of movies -- The Aviator is my pick as the best of the bunch -- other notables include Ray and Kinsey. More significantly, 2004 was the year that Asian cinema broke out and produced a lion's share of the top honors -- #1, #4, and #5 are Asian movies by Asian directors while #2 (Kill Bill Volume 2) is heavily Asian-influenced. I had been familiar with Yimou Zang (1999's The Road Home and 1991's Raise the Red Lantern) but nothing could have prepared me for the two stunningly beautiful films of his that were released in the U.S. in 2004 -- #1 Hero and #4 House of Flying Daggers. Comparing 2004's list with 2003's, I think that the top ten of 2004 is a little stronger but that it falls off quickly after that. The top four of 2004 I consider classics that I will want to watch many times over the years. The entire top ten are movies that hold up well upon repeat viewings – a key criteria for a great -- as opposed to just very good -- movie.
To be eligible for inclusion on this list (best and worst) the film must have it's first U.S. theatrical release date in 2004. This is almost the same as the Oscars – see my Oscar Commentary for more.
---
The Top Ten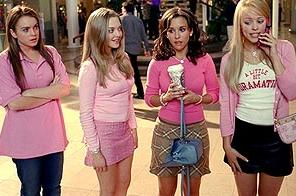 #10 Mean Girls lives in a genre that rarely gets a top-ten honor from this critic – high school clique comedies. This movie is a testament to the value of good screenwriting. Tina Fey's brilliant script made this movie a clever comedy -- it could have easily been just an ordinary teen comedy flick. Before this film I hadn't noticed Rachel McAdams – but she caught my attention as the ruthless head of the A-list crowd who dominates the lunch room. I think she's on her way now and I hope that Tina Fey is getting bombarded with offers to produce her work. Directed by Mark S. Waters, starring Lindsay Lohan. Photo is copyright Paramount Pictures. IMDb link for more info.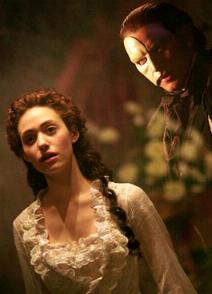 #9 and The Most Underrated Movie of 2004 Andrew Lloyd Webber's , The Phantom of the Opera For some reason -- unknown to me – most critics are picking on this lovely musical. Without positive reviews, this film has been doing only mediocre box office – it deserves much more. Phantom has a few faults but it's not only gorgeous visually (19th century ornate opera house with a dark nether region where the Phantom lives as well as impressive period costumes) but Emmy Rossum puts on an unforgettable vocal performance. You can add up the talent of the top two dozen of today's pop princesses and it wouldn't come close to that of Emmy Rossum. The story centers on a love triangle – young opera star Christine (Rossum) must choose between the light side – the rich young nobleman whom she knew as a child -- and the sinister genius musician who hides in the bowels of the opera house. Best musical in years – blows away Chicago. Directed by Joel Schumacher. Photo is copyright Warner Brothers. IMDb link for more info.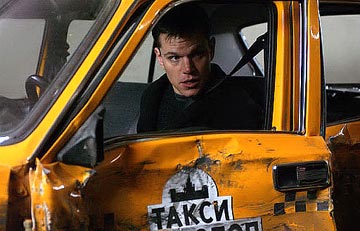 #8 The Bourne Supremacy is a Hollywood movie in every way -- stars, action beats every couple minutes, catchy cinematography – it's an example of what can be produced when that system really fires on all eight: a tightly-plotted film brimming with action. A good story very well told. Matt Damon does his best work to date as the covert CIA agent caught up in a nasty plot involving bad guys in various places including in the agency. Great supporting performances by Joan Allen and Brian Cox and stunning but not too frequent action sequences make this film one of the best in the spy genre. Directed by Paul Greengrass. Photo is copyright Universal Pictures. IMDb link for more info.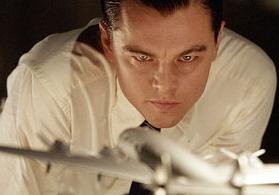 #7 Martin Scorcesse's , The Aviator tells the fascinating story of Howard Hughes, billionaire, engineer, filmmaker, womanizer, pilot, and most of all -- eccentric. The most glamorously visual film to date by the great Martin Scorsese, Aviator gives us thrilling plane crashes, Hollywood glamour from the 1930s and 1940s, as well as a sad story about a man who has everything but struggles with mental illness. Hats off to Leonardo DiCaprio for pushing this project to completion. Photo is copyright Miramax. IMDb link for more info.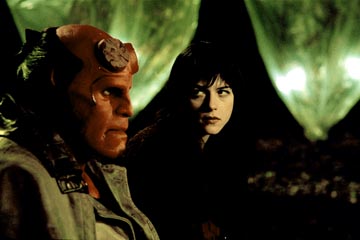 #6 The best comic book adaptation of the year, Hellboy not only gave me delightful visuals – Hellboy is a demon-turned-hero who fights various supernatural monsters – but there is a compelling love story embedded in all of the action. There's one scene where Hellboy's true love (a great performance by a slow-burning Selma Blair) has been taken by the devil and he whispers gently that, if necessary, he'll cross over and make Satan regret it. If you put aside the subject material, the film has more in common with current indie offerings than mainstream Hollywood. Directed by Guillermo del Toro, starring Ron Pearlman as Hellboy. Photo is copyright Revolution Studios. IMDb link for more info.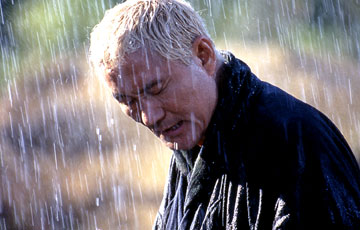 #5 The Blind Swordsman: Zatôichi is a remake of a 1950s Japanese series of feature films and TV shows. The story is reminiscent of American westerns where a tough loner comes to a corrupt town and cleans up. In this case the "sheriff" happens to be blind – which makes his martial arts skills seem all the more amazing. An interesting opposing character to our hero: a noble samurai who reluctantly agrees to work for the ruling gangsters -- it's the only way to provide for his sick wife. Directed by Takeshi "Beat" Kitano (he also plays the starring role.) Photo is copyright Miramax. IMDb link for more info.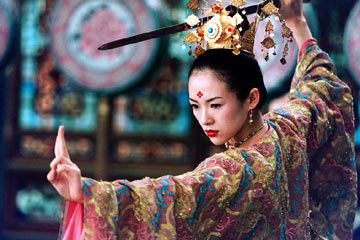 #4 House of Flying Daggers by Chinese director Yimou Zhang is just drop-dead gorgeous –a tale of a love triangle set in ancient China among rebel warriors and their adversaries loyal to the emperor. Every scene – every frame of this film – is beautiful. From a couple of dance sequences in an ornate brothel -- to the most compelling martial arts sequence in memory set in a bamboo forest -- it's a visual delight. If you haven't seen any of Yimou Zhang's films, you can't imagine how beautiful martial arts action can be. Starring the lovely Zhang Ziyi – with Takeshi Kaneshiro and Andy Lau as the other two sides of the love triangle. Photo is copyright Sony Pictures Classics. IMDb link for more info.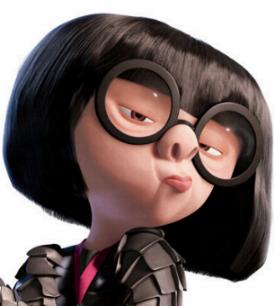 #3 Wunderkind studio Pixar and Director Brad Bird joined forces to create The Incredibles, an animated super hero story with a lot of heart. The story concerns a family of super heroes who had to live incognito for years but come out and rally together to battle an evil adversary – the villain character, voice by Jason Lee, is so well done which is often not the case. I never thought that action sequences could be so convincingly rendered via animation. There's one plane wreck that's absolutely heart-stopping. But the best part is the compelling story of a family with typical problems who pull together when the going gets tough. I can't conceive how anyone could see this film and not be touched. It's also a very funny movie – and the humor never seems forced. Even if you usually don't go in for animation, please give this one a chance. Also featuring voice work by Holly Hunter and Craig T. Nelson. Photo is copyright Pixar/Disney. IMDb link for more info.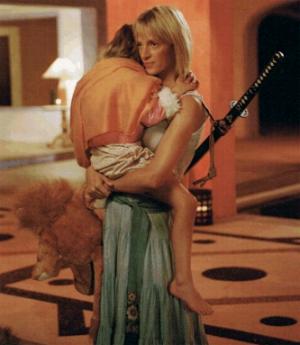 #2 Quentin Tarantino's Kill Bill, Vol. 2 deals in a unique flavor of dark comedy that either is or isn't your cup of tea – I love the stuff. For example -- there's a scene where Budd (Michael Madsen) opens a suitcase full of money – and out pops a black mamba (poisonous) which bites him on the face. As he is writhing in pain for the last couple minutes of his life, Elle (Daryl Hannah) reads him some research she did on the black mamba and how it kills. The scene is so funny that just the thought of it brings a smile to my face. Now most people don't think that's funny at all – if you don't then you might not appreciate Tarantino. To me, both Kill Bill movies are not only outrageously funny but beautifully stylish in a visual sense. And nobody writes better dialog than Tarantino – he gets the career-best performances out of a wonderful cast including: Uma Thurman, David Carradine, Michael Parks, and Gordon Liu. Photo is copyright Miramax. IMDb link for more info.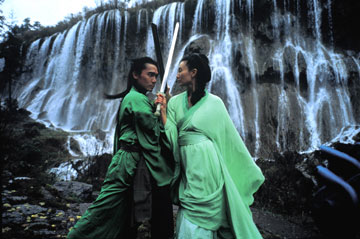 #1, The Best Movie of 2004: Hero , an historical epic, is both visually breathtaking and thought provoking. It tells a legendary tale of political and military maneuvering – set in China over 2000 years ago. Jet Li stars as a warrior who may or may not assassinate a king who's trying to assert power over several warring kingdoms. This film is so densely woven that it took me a second viewing to fully appreciate how well it tells its' complex tale. Embedded in the movie is a poignant love story – sad but all the more powerful for that reason – that didn't seem tacked on, as many do. Directed by Yimou Zhang – remember his name – he's a giant among movie directors. With memorable performances by Tony Leung Chiu Wai, Maggie Cheung, and Ziyi Zhang. Photo is copyright Miramax. IMDb link for more info.
---
Honorable Mention
Barbershop 2: Back in Business IMDb link for more info.
Finding Neverland IMDb link for more info.
---
Best Documentaries
Best Documentary of 2004: Riding Giants
Aileen: Life and Death of a Serial Killer IMDb link for more info.
Born Into Brothels IMDb link for more info.
Control Room IMDb link for more info.
---
---
The Worst
It's worth noting that, on this website, the "Worst" list is selected differently than most other lists of that sort. Most worst movie citations are more accurately described as "funniest bad movie featuring known stars." That describes the well known Razzie Awards (see The Golden Raspberry Award Foundation -- their awards ceremony is held the day before the Oscars and is always a hoot.) Almost all critics that publish a "worst of" list exclude from consideration independent film productions and most will not single out an unknown actor or director in a year-end "worst of" list. My award category that corresponds to the Razzie Awards' "Worst Picture" is the "So-Bad-that-It's-Good Award" – a movie that is funny as a result of poor execution – note that Catwoman is one of my "winners" in that category for 2004 and it is also an odds-on favorite to take multiple Razzies. The primary reason that I don't exclude independent films from my "worst of" list is that to do so would be a disservice to my readers – you deserve my unvarnished opinion. The worst movie of 2003 was a typical Hollywood studio film (Darkness Falls) while the worst of 2004 turned out to be an indie production. I call it as I see it – and if you see many independent and foreign films, you know that some of them can be powerfully bad.

---
The Worst Movie of 2004:

Greendale

(written and directed by Neil Young) Bummer… Greendale is so bad in so many ways. It looks like it was shot with a $200 video camera -- a terrible image when blown up onto the big screen. With all of his money, couldn't Neil Young afford a decent camera? Then there is the music – 60s-hippie-blues-rock (not the sharp, punchy kind but the dreary, vaguely nostalgic ballads) – the movie consists of song after song in this depressing style. There is a story of sorts – something about environmental damage, set in a small town on the California coast but the storytelling was muddled, partly because everything was sung rather than spoken. What I saw was a poor quality music video stretched out to feature length -- singing accompanied by actors crudely playing out the lyrics and – the worst part – lip-syncing the words. And it wasn't even credible lip-syncing – it looked phony – couldn't they have called Ashlee Simpson for advice? It was throw-rotten-fruit-at-the-screen bad. I feel sorry for the actors – they look foolish. IMDb link for more info.

---
The Worst Big-Budget Extravaganza of 2004:

The Polar Express

Debacle… $170 million debacle (the reported production budget)… although now it appears that this horrible film may actually make money, which is worse – we may get more of this stuff. Polar Express is a children's movie that's supposed to be thrilling and cheerful – to stoke up Christmas spirit. Instead, the animated images on the screen are these creepy zombie-kids that are supposed to be sympathetic characters. Specifically, the kids' eyes looked spooky rather than endearing. Their movement seemed robotic. I never would have thought that director Robert Zemeckis and Tom Hanks (who teamed up to make Cast Away) would ever be placed on my "worst of" list. The fundamental problems: (a) the decision to emulate the pseudo-realistic look of the illustrations in the book on which the movie is based, (b) to use a technology known as "performance capture" -- attaching dozens of sensors to an actor's face and body to detect motion, then feeding data from that into a computer program which, in turn, creates the movement of the animated characters that we see on screen. Well… it didn't work very well at all. The idea was that one could eliminate the job of the animator – go directly from performing artist to computer graphics. Debacle. IMDb link for more info.

---
So-Bad-That-It's-Good Award: (tie)

Seed of Chucky and Catwoman Here are a couple of guilty pleasures – bad movies that I have to admit enjoying. Chucky ( IMDb link), the sixth in a series of slasher movies, features a murderous pair of dolls. Jennifer Tilly stars as a comic parody of herself – she clearly created the character that she set out to create – this isn't a case of unintentional humor. Catwoman is something else – the campy characters were not intended to turn out the way that they did but nevertheless, the movie made me laugh and Halle Berry could have made a compelling Catwoman, given a better script. Neither of these movie approach the outrageous camp of last year's category winner, Gigli -- that film is one for the books.

---
Shameless Product Placement Award:

Harold & Kumar Go to White Castle

I shouldn't have been surprised that filmmakers continue to push the envelope on product placement. In this case, the movie is a frat-boy-party-animal-road-trip movie where the objective – the characters' guiding force – is to satisfy their severe case of the munchies with a trip to White Castle, a burger joint chain. The film followed all the conventions of the genre with just one slight twist: the party boys are Asian. This is either a new high or a new low, depending on your perspective – I can't think of another film where one brand name was held up as an ideal – it's as if in Lord of the Rings the one all-powerful ring was a branded product. IMDb link for more info.

---
Most Overrated by Critics:

Closer

… Good movie dialog – in a movie that purports to depict realistic current-day characters -- differs from real-life dialog in one principal way – most of the filler that people throw in the conversation is stripped out to make the scenes move quickly but still have an authentic feel. Closer is a mate-swapping drama that relies heavily on intense, emotional exchanges among the characters. My problem with it is that the dialog was completely stripped of any of the normal conversational filler – which gave the film a choppy, unnatural feel. Sometimes highly stylized dialog fits in beautifully – the Kill Bill movies are great examples – the characters aren't meant to be realistic. In this case, the style of dialog was a mismatch, given type of film – it may have been ok as a stage production, but it didn't work for me as a movie. IMDb link for more info.

---
Planet Naboo Citation for the Worst Cinematic Moment of 2004:

in Before Sunset, when the end credits roll. If a film contains nothing but dialog – in this case two characters talking about their lives in the eight years since they last saw each other – then that dialog better be damned impressive. There wasn't a single scene in Before Sunset that made me cringe – in that sense it's unusual for a bad movie – most really bad movies have several scenes that make me want to scream out loud or throw something at the screen. This is more subtle – my complaint is that I kept waiting and waiting for something – anything -- to start happening – but they just kept chatting! When the end credits finally rolled, I was happy in a way – that it was over – but also shocked that the entire film was absolutely lacking in action and drama. Most film critics would agree that exposition – having actors talk about events rather than playing them out – is weak filmmaking. It's impossible to agree with that premise and not recognize Before Sunset as a failed, pretentious art film. The anti-movie. IMDb link for more info.

---
More Notable Baddies
The Butterfly Effect IMDb link for more info.
The Chronicles of Riddick IMDb link for more info.
Torque IMDb link for more info.