Hero (aka Ying xiong)
Directed by Zhang Yimou
(in Mandarin with English subtitles)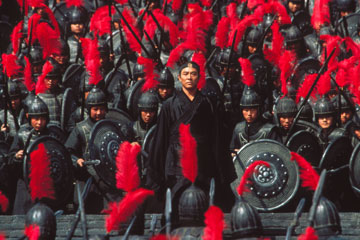 The long-anticipated Hero finally hit the big screen in the U.S. After being a top box-office performer in China (where it was released in 2002) and getting an Oscar nomination for best foreign language film, it still sat on the shelf over at Miramax for over two years. As a foreign film loosely based on events that occurred over 2000 years ago, Hero pulled off a stunning coup -- it debuted at number one at the box office, beating a mainstream American monster flick, Anacondas: the Hunt for the Blood Orchid, which opened on the same weekend.
If you have read many reviews on this website you know that I place a high value on production design, costumes and cinematography – the things that make a film beautiful in the visual sense. Hero excels in all of those categories but in this case the highly stylized visual imagery is a little too much – it overpowers an excellent story by distracting the viewer. Production design and costumes should serve the story, not overwhelm. In one stunningly visual scene, the main character, Nameless [warrior], played by a stoic Jet Li, enters the king's castle – the castle is gun-metal grey, the hundreds of guards are decked out in gun-metal grey -- the only accent is the scarlet feathers on their helmets. It's a gorgeous image but I thought it was a little over the top. I love a good looking period piece but this is just a little too stylized – a more realistic look would have better served the storytelling.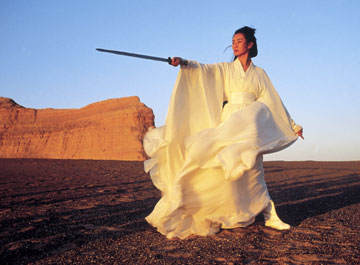 This historic epic is based on a Chinese legend relating to the lead-up to the consolidation of all of the kingdoms of China under one emperor. Nameless goes to meet the ambitious King of Qin (Daoming Chen) and tells stories of how he defeated various opponents of the king. Most of the movie consists of flashbacks as Nameless tells the stories. When the king becomes skeptical of how things may have happened, we see several versions of the story as he relates his theory about what happened and the motivations of various players. The story isn't just about an historic power struggle but also things like personal sacrifice for one's country and the trade-off between civil order and local autonomy. As the different versions of the story unravel, several questions come up. Does Nameless intend to attempt to kill the king? What tricks does the king have up his sleeve? Is the consolidation of the kingdoms a good thing or not? Which characters are good guys and which are not? The last question in particular makes Hero a thought-provoking film which should not be lumped in with typical martial arts fare.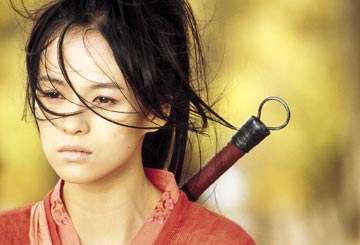 Ziyi Zhang gave a strong performance as Moon, a servant girl trained in the martial arts. Ziyi Zhang apparently has a bigger part in another film by director Zhang Yimou, -- House of Flying Daggers, set for release this fall. Moon shows both passion for her beloved master, Broken Sword (Tony Leung Chiu Wa), and a zeal for combat. In one of the versions of what may have happened, she and her rival for Broken Sword's love, Flying Snow (Maggie Cheung), battle it out inside a cloud of blowing yellow leaves. It reminded me of the catfight in Kill Bill, Vol. 1 set in the snow-covered garden – a stunningly beautiful set piece. The difference is that while the Kill Bill movies traffic in silly black humor, Hero is trying to tell a tale loaded with lessons to be learned about politics and personal relationships.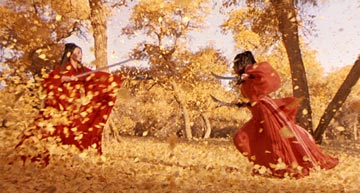 Hero will inevitably be compared with Crouching Tiger, Hidden Dragon. Both give us wildly unrealistic sword fighting scenes where the players fly around and one warrior can hold off an army of hundreds. For those who cringe at violence, most of the fight scenes in this movie proceed at a standoff for a long time then end rather bloodlessly. The violence probably won't disturb the squeamish as much as the typical American action movie. The complex story in Hero makes me prefer it to Crouching Tiger while wishing the filmmakers had been a little less heavy-handed with things like costumes and production design.
Comments following a second viewing of Hero: I was a little overwhelmed the first time I saw the film – it took a second viewing for me to fully appreciate both the beauty and the story. I still believe that, as a general rule, production design, costumes and the overall look of a film shouldn't overpower the story and that I was overpowered on my first time through Hero. The story is fairly complex – three versions of what may have happened are presented. The main theme – the tradeoffs among things like individual sacrifice, loyalty to one's nation (or kingdom in this case), and peace among nations – is slowly presented as Nameless (Jet Li) has a conversation with the king that he may assassinate. Those tradeoffs were difficult for me, as a westerner brought up with then ideals of individual freedom and representative democracy, to swallow -- so the movie was difficult to get my arms around on the first go round. I must say that although the views expressed in the previous paragraphs are representative of my first impressions of Hero, now I believe that the stunningly beautiful production design and costumes create an other-worldly, mythological feel the serves the story and the theme very well. My recommendation is that once is not enough for this masterpiece – it improves with repeat viewings – and please try to catch it in 35mm on a big screen.
Photographs are copyright Miramax Films.
For more information about this film including detailed cast and crew credits, check out The Internet Movie Database by clicking here.
---
e-mail me