Kill Bill, Volume 2
Directed by Quentin Tarantino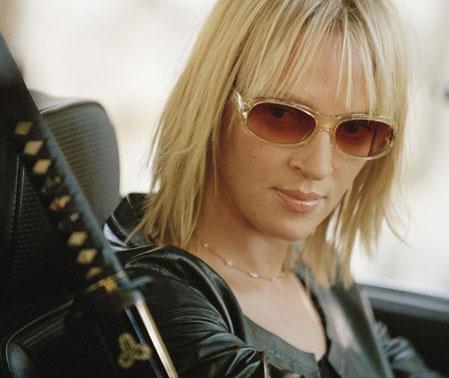 The second installment of Kill Bill is as visually stunning as the first but includes even more of writer/director Quentin Tarantino's patented dialog. David Carradine is fantastic as Bill – the rest of the cast is also great but since his (long) career has been in the doldrums for a couple of decades, he deserves special mention. This is the funniest and the most beautiful (in the visual sense) film I've seen since Volume #1. Tarantino used a different photographic style for each of "chapters" that compose the film. You could turn off the sound and be taken back by the beauty of the images. Likewise, in the scenes with more dialog, you could close your eyes and be blown away by the humor. He doesn't write dialog that matches any imaginable human being's speech – it is highly stylized to create these hilariously extreme characters. He makes reference to numerous obscure movies including the some in the Kung Fu genre. These sequences are incredibly funny but not in a satirical way – Tarantino isn't mocking these old movies. He loves them but he clearly sees them as fun rather than a lot of macho action and posing.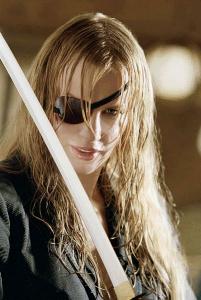 A staple of martial arts movies is the humble but promising student going under the tutelage of harsh master – in this case the Bride goes to a hill in China to meet the outrageous (eyebrows made of six-inch white hair) Pai Mei, played by Gordon Liu. Asian martial arts films (and also, to a lesser extent, American action movies) are blatantly unrealistic – they put lots of flamboyance and flair in fight scenes. Tarantino takes that difference to an extreme – his combatants hang in mid-air for seconds, blood spurts more like a water park fountain than a human body. The highly stylized dialog works to the same kind of effect as the over-the-top fight choreography – it makes clear that these are not real people but comic-book style characters – very funny in a dark, twisted sense.
Please be sure to see Kill Bill Volume 2 in 35mm while it is playing in theatres – these gorgeous images should not be degraded as they must to fit onto a tape or DVD.
Images are copyright Miramax.
For more information about this film including detailed cast and crew credits, check out The Internet Movie Database by clicking here.
---
e-mail me