Želary
Directed by Ondrej Trojan
(in Czech, with English subtitles)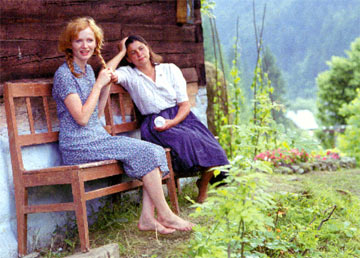 Želary tells a story of a young woman in war-torn Czechoslovakia whose life is up-ended when she learns that the Nazis may be on to her covert antifascist activities. Eliška (Ana Geislerová) is a sophisticated young medical student engaged to a doctor, when she has to leave Prague to hide in a small mountain village (Želary) and make some major adjustments – including marrying a man she barely knows in order to make it plausible for her live in the village. Želary is so remote – meaning safer from the Nazis – that there are no paved roads, electricity, running water, or any of the other comforts that Eliška, now going by the name of Hana, took for granted back in Prague.
It isn't hard to predict that Hana learns to like the rural beauty of Želary and falls in love with her new husband Joza (György Cserhalmi). The essence of the movie is the mismatched love affair between Joza and Hana, with the backdrop of fear created by the occasional visits by the Nazis. Hana will surely be executed if caught – as will Joza since he has been hiding her. Joza is middle-aged, uneducated and crude – a lovable Czech redneck -- but kind, compassionate, and hard-working. It's interesting how Hana's attitude toward him changes from being grateful that he stuck his neck out to save her to appreciating his simple but noble qualities. I could see this coming since he is portrayed as such a nice guy from the start, but watching it happen is the treat here – it's done using very little dialog – he is a man of few words – but both actors do very well at conveying through body language how their feeling toward the other change over time.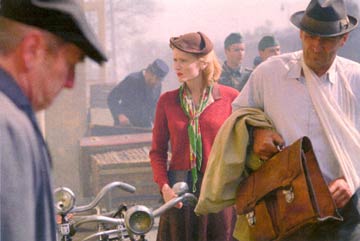 The simple, mountain beauty is beautifully photographed and, without having to explain it, we see how Hana comes to like her adopted home. The scenes in Prague are also beautifully shot – those exterior shots made me frustrated that I've never visitied that lovely city. Hana gains the confidence of many of the village women – overcoming their initial skepticism about the city girl whose hands reveal (to them) that she has never done an hard day's work.
Things are tense under the Nazis but hurtle into pandemonium when the "liberating" Russians arrive. The troops are drunk, undisciplined, and violent. The village is thrown into chaos – creating new problems for Hana and Joza.
Želary is a beautifully-shot, war-time romance – it took me somewhere I've never been. It was nominated for an Oscar (foreign-language category) for the year 2003 (although it wasn't released in the U.S. until 2004.) Try to catch it on the big screen – or failing that, get the DVD.
Photographs are copyright Sony Pictures Classics.
For more information about this film including detailed cast and crew credits, check out The Internet Movie Database by clicking here.
---
e-mail me