María, llena eres de gracia (Maria Full of Grace)
Directed by Joshua Marston
(in Spanish with English subtitles)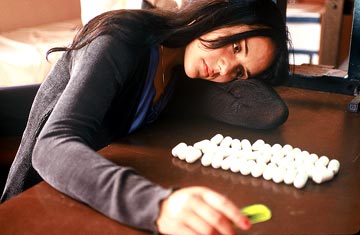 Maria Full of Grace impressed me as a realistically rendered story of a young Columbian woman who, out of desperation, agrees to act as a drug-smuggling "mule" – risking her life and freedom for the promise of a big payoff. Director Joshua Marston plays it pretty straight with his characters – the drug smugglers are sleazy but not the kind of extreme, super-violent gangsters typical of Hollywood crime movies. The main character, Maria (Catalina Sandino Moreno) isn't pitifully poor but just a young woman from a small town with few job options and the complication of becoming pregnant by a guy she doesn't love. The filmmakers were wise to show restraint with their characters – they could have gone for more dramatic bad guys, cranking up our adrenaline with lots of bang-bang action – but instead made a film that tells a sad story with believable characters.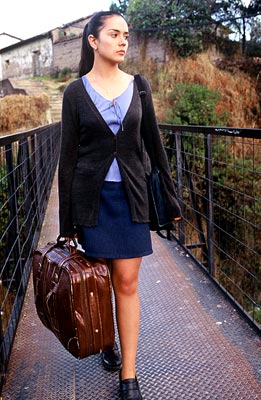 This is not, however, a sugar-coated version of drug running – we see Maria painfully learning to swallow the wrapped pellets of heroin that she will carry through U.S. customs in her stomach. If one breaks inside her, she dies – that tension is developed convincingly but without melodrama.
The low-level drug smuggler who recruits Maria comes across as not the most trustworthy person but just a guy she meets at a dance after having a dust-up with the boyfriend who got her pregnant. Nobody coerces her into doing the job – but neither does the guy have second thoughts about the risks to her. He seems to care for her as a potential girlfriend – but not enough.
Catalina Sandino Moreno gave an impressive debut performance – she was an unknown college student in Columbia when she auditioned for this on a lark and won the lead. Her character seems natural and unforced. They made a wise decision to not glamorize Maria – the actress is beautiful and naturally charismatic but the film would have taken on a different spin if they had pulled out the stops and made her character into a knockout babe.
Speaking of beauty, the exterior shots in both Bogota, Columbia and the mountainous countryside of Ecuador made for some impressive visuals – it's such a shame that there's so much turmoil in those countries.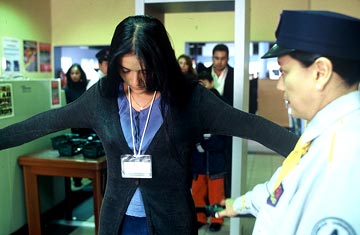 In one of the most powerfully tense scenes, Maria is grilled by U.S. customs officials. The filmmakers made another smart choice in not exaggerating these characters – the officials came across as intense professionals who take no nonsense but respect Maria's rights. After the scene at customs things start to go sideways. Maria and two other young women are hustled around NYC by a couple of local homeboys who prove to be a bit rougher than their Columbian counterparts. Maria and her friends have to make to tough choices and deal with a sticky situation in a totally unfamiliar city.
Maria Full of Grace is a very thought-provoking film – all of the characters come across with street-level realism. My one little complaint is that the objective of this business venture – smuggling heroin – does take a real toll on the end users – people die of overdoses – lives of innocents are disrupted. The film seems to take no position on that angle. I think that it's realistic -- and therefore the correct way to play it – to show the poor Columbian women doing this with no sense of the guilt – they've got more pressing things to worry about. But it would have added some balance to somehow work in the larger picture of the effects of a drug-smuggling enterprise. But do check this film out – it's a sad story that will make you think.
Photographs are copyright Fine Line Features.
For more information about this film including detailed cast and crew credits, check out The Internet Movie Database by clicking here.
---
e-mail me