Volver
Directed by Pedro Almodóvar
(in Spanish, with English subtitles)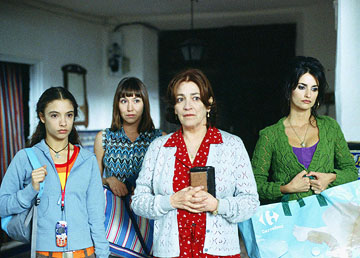 Volver is a hilarious dark comedy centered around an extended family of spirited women (in more ways than one) with hardly a man in sight. Dysfunctional families are in vogue but Almodóvar gives us a highly functional family – these women are flexible, resilient and up to any task. The family has skeletons in its closet but all is well in hand. Need to deal with an abusive husband? Done. Store the body? OK. Dispose of the body? Check. All presented in the best tradition of cheerful black comedy.
Raimunda (Penélope Cruz in perhaps her most radiant form to date) and Sole (Lola Dueñas) are two sisters whose mother (Carmen Maura – endearing but with just a dash of creepiness) has seemingly come back from the dead after a mysterious fire four years ago in which she and her husband died. A cousin's mother disappeared at the same time, creating a mystery that unfolds with touching drama – but in a dark-comedic way.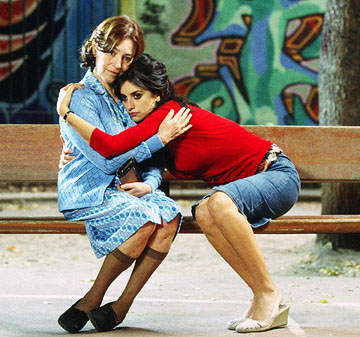 A strong Spanish East Wind serves as a metaphor. "Volver" in Spanish can mean to return or upending change. The wind in the family's ancestral village is wreaking havoc –- blowing things around, fanning fires. This family deals with upheaval: incest, death, and cancer. The film's a clever mix of touching drama and black humor that blends seamlessly.
Without exception, the acting in Volver is first-rate. While Penélope Cruz is clearly the star in a role that very well may get her an Oscar nomination, Lola Dueñas plays a perfectly contrasting role as her sister. The sisters haven't been too close in the recent past, but the family bond is still strong. How they interact struck me as both believable and, at times, laugh-out-loud funny. Yohana Cobo plays the stressed teenage daughter with a nice mix of pout, frustration and detachment.
Almodóvar is always bold in his use of color – but this one isn't as splashy as some of his other films. Exceptions include when Raimunda is cleaning up her dead husband's blood. They go in for a close-up of blood quickly spreading deep red across white paper towels. The opening scene (while the credits run) is beautifully shot in a cemetery during daylight showing women cleaning grave markers while the strong wind frustrates their task. Overall, the picture isn't highly visual – although the old village where about half of the film was shot is very interesting visually.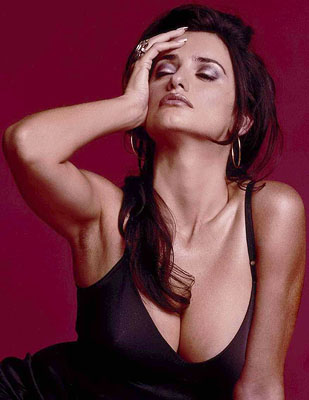 I've grown to love funny but appropriate product placement. In this case it's AmigoAutos.com! I looked it up and it's a real company! Just in case you ever need to haul a freezer containing a dead body 180 km to a remote burial site and you need to rent a van big enough for the freezer along with you and the local hooker that you enlist (played with ample sass by María Isabel Díaz).
This is Almodóvar's best since Matador (1986). Evidently inspired by his childhood in a small Spanish village, the film deals with less shocking subject matter than his most recent Bad Education (2004). The overall feeling conveyed by Volver is a curious, seemingly incongruous mix of warm feelings for these family-centric women and the humorous way the story is told – full of snappy dialog and black humor.
Images are copyright Sony Pictures Classics.
For more information about this film including detailed cast and crew credits, check out The Internet Movie Database by clicking here.
---
e-mail me