Dreamgirls
Directed by Bill Condon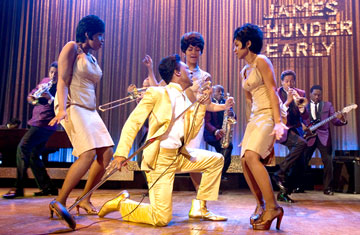 The setting is Motown in the 1960s and the story is about a trio of young, black women with talent – and an ambitious manager with plans to catapult them to stardom. Dreamgirls is a musical with only a couple great songs but a compelling story to tell. Effie (Jennifer Hudson), Deena (Beyoncé Knowles) and Lorell (Anika Noni Rose) are the original trio called "The Dreams." Of these three actresses, the least-known, Ms .Rose, delivers the best performance as the shy, gullible young woman who gets seduces by James "Thunder" Early (a riveting Eddie Murphy – more on him later).
Beyoncé Knowles, looking as fetching as ever, sings with power, range and versatility. So well that one point that the movie seems to take for granted -- that Effie is more talented than Deena – gets muddled since it doesn't seem clear (to me at least) who is the better singer. She also has tremendous presence – meaning that she occupies the screen more as a star than a character actress. I believe Ms. Knowles will be a durable star but I wish she would loosen up a bit. In all her film roles she seems a bit stiff. Jennifer Hudson (known as a highly talented "also ran" from TV's American Idol) shows tremendous power as a vocalist but didn't bowl me over as the latest, greatest find as an actress. Ms. Hudson seems unsure of what to do with her hands when she sings and doesn't move well with the music. There's more to a live performance than vocals.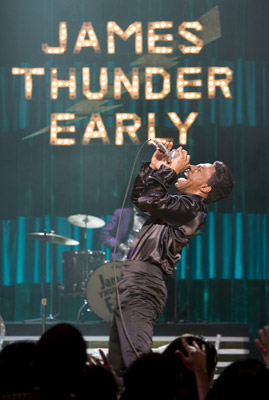 Jamie Foxx plays the slick, clever but ruthless businessman Curtis Taylor Jr. Kudos to both Mr. Foxx and Mr. Condon for not overdoing the villainy. Curtis is the group's hard-driving manager and it might have been tempting to make the character into a real monster. Wisely, the filmmakers held back a bit – making him believable as the man Deena eventually marries and stays with for many years.
While Dreamgirls is a movie worth seeing – for Eddie Murphy's best performance in years, among other notable high points – it has one serious flaw. To explain that flaw, I need to first explain my theory that there are two types of musicals and certain "rules" apply to one of those types – which includes Dreamgirls. The first type is the fantasy musical where the setting, costumes, etc. – everything that you see on the screen – let you know that the film isn't set in the real world but rather in a fantasy world where the normal expectations of what you see and hear do not apply. Phantom of the Opera (2004) and Chicago (2002) are both fantasy musicals. On the other hand, Dreamgirls is unlike those two in that everything that the audience sees is realistic (the setting is 1960s to 1980s America). My Big Complaint about Dreamgirls -- bear in mind that it presents itself as a real-world story: in some of the most intense dramatic scenes, a character will spontaneously burst into song, destroying realistic dramatic feeling that the scene is intended to convey. For example, when Effie is told that she has been demoted from lead to backup singer (and, at the same time, figures out that her boyfriend/manager, Curtis, is seeing Deena), she is mad enough to tear Curtis's head off. Yet she starts singing! The audience burst into laughter – inappropriately since the scene is very sad since Effie is a sympathetic character and Curtis is a bit of a bad guy. You can't present the film as a real-world drama and then have a character start singing in the middle of an intense argument. The effect of this is that Dreamgirls lurches awkwardly between real-life and fantasy. Film musicals need to choose one approach (realistic or fantasy) and stick to it. It works pretty well on the stage (Dreamgirls was adapted from a Broadway play that was a huge hit in the 1980s) to have characters bursting into song, but it's poison to a film that's set in the real world.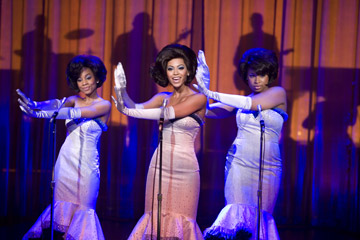 Dreamgirls is a very good looking film. Production design came across as authentic for the period. The costumes – particularly the ones they wore performing as a group – provide loads of eye candy throughout the film. A very wise decision was made to avoid the machine-gun editing which is so popular these days. One problem I had with Chicago was that the dance sequences were spoiled by choppy editing.
One scene left me puzzled. The point of view of the film is that Effie is more worthy to be lead singer and mean, greedy Curtis relegates her to backup because TV becoming more important and chubby Effie is less attractive than Deena. The film pushes the idea that this is a terrible artistic compromise in order to make a buck. In that context one scene seems radically out of place. The group performs a song called "Heavy, Heavy" with Effie in a dress with large horizontal slits – exposing her huge thighs. A heavy woman isn't flattered by a dress like that -- and coupling the dress with that song? The scene struck me as poking fun at Effie in a very insensitive (and politically incorrect) way. Could this humor have been unintended?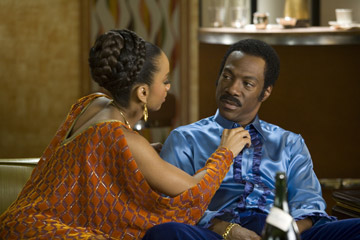 Dreamgirls has a lot going for it – enough to make up for its flaws. The best reason to see it is for the return of Eddie Murphy. I say return because, after bursting into the movie business in the 1980s with a string of memorable performances (48 Hrs. and Beverly Hills Cop to name a couple), for the last decade or so, he seems to be have made awful choices (Daddy Day Care and The Adventures of Pluto Nash) for someone of his talent and stature in the industry. I've been baffled for years -- why are his choices of projects so consistently bad? But now he's back. Eddie Murphy knocks it out of the park as the lusty, gutsy James "Thunder" Early -- a lovably egotistical soul singer who speaks about himself in the third person. My favorite scene has him playing before a mostly white audience in a nightclub. Jimmy comes on to a white woman who can't handle it. Remember that this is the 1960s when interracial dating was still a huge taboo. Very funny scene – worth the price of admission.
Images are copyright DreamWorks SKG.
For more information about this film including detailed cast and crew credits, check out The Internet Movie Database by clicking here.
---
e-mail me