Curse of the Golden Flower
(aka: Man cheng jin dai huang jin jia)
Directed by Yimou Zhang
(in Mandarin, with English subtitles)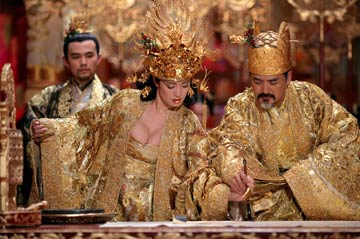 Curse of the Golden Flower is a stunningly colorful, intensely dramatic, but ultimately sad Shakespearean tragedy set in 10th century China (Tang Dynasty, regarded as a high point in Chinese literature and art). The characters are bound by tradition to play their roles in society which lead inevitably to their demise. They know they're destroying themselves and their family, but they're powerless to step out of their roles. There's a scene at a ceremonial banquet for the Chrysanthemum festival (the titular "golden flower" and time at which the tragic events unfold) where the Emperor explains the symbolism of the event and how that relates to the royal family members playing their roles. "As long as I am the Emperor and you are the Empress, we will play our parts to perfection."
The Emperor (Chow Yun-fat) is the ultimate alpha male – able to acquire and maintain power. His presence meant that his family had to be strong, cunning and ruthless in order to survive. His servants are required to be absolutely submissive – bowing, kneeling and always addressing him as "Emperor" or "Your Highness". Chow Yun-fat gave his character a quiet, thoughtful demeanor – but under the calm exterior he's always ready to explode into deadly combat. He commands not only a regular army but an elite group fighters in black jumper suits with masks. They carry sickle-like weapons and have the ability to swing seemingly from space, in unison, to attack earth-bound enemies. But as nasty as the Emperor is, he shows another side in his continued love of his first wife. He built a shrine to her. But make no mistake, absolutely nothing gets in his way when it comes to maintaining power.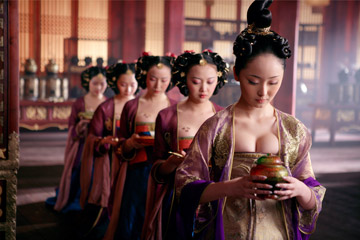 The Empress (Gong Li) is having an affair with the Crown Prince (not her son and he's an unwilling participant) and of course the Emperor finds out – not much gets by his majesty. For that and possibly other reasons, she is being slowly poisoned to death by the Emperor. She figures that out but cannot avoid taking her poisoned medicine – bound by arcane protocol. Her only way out is open rebellion. She recruits some of the military to launch a coup, presenting her three sons with a dilemma: to support her or remain loyal to the Emperor. Gong Li's Empress is a fascinating blend: she's cruel, disloyal, lecherous but also sympathetic since she's being forced to poison herself. This is the best performance by an actress in a leading role in 2006 – she deserved to nominated for an Oscar.
Prince Jai (Jay Chou… He's evidently a big rock star from Taiwan.) is the Emperor's second son and the Empress's biological son. Jai is the most competent of the three sons. His father sees him as the best bet to ascend to the throne and successfully continue the family line. He has returned from several years on a military campaign which the Emperor arranged both to test him and to punish him for rebellion. Upon his return he and the Emperor have a sparing session (swords, armor) and a talk in which Jai is warned against future moves against the crown.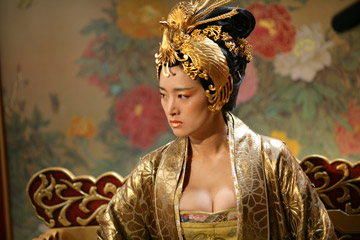 Crown Prince Wan (Liu Ye) is very bright but not ambitious. He asks his father to remove him from the line of succession. When thing start to flare up around the palace, he's the one pleading with the others to calm down and not do anything drastic (eg. kill the Emperor.) Wan is a lover – in love with young, beautiful Chan – not a warrior. He's also a stand-up guy. When he's caught with Chan by the jealous Empress, he takes responsibility and pleads for Chan to be spared.
The Imperial Doctor's Wife (Chen Jin) is a mysterious figure with a branded face who sneaks into Wan's part of the palace, sparking perhaps the best fight sequence in the film – no weapons, great acrobatics -- and she is a woman of middle age who turns out to be his biological mother. She knows but neither Wan nor Chan know. She's also Chan's mother. So Wan and Chan are lovers who don't know that they're half-siblings.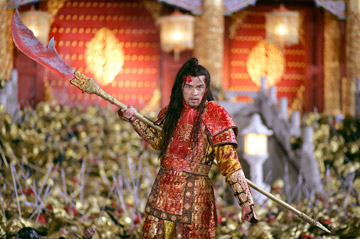 The Imperial Doctor (Ni Dahong) is an ultra-loyal servant (medicine was different back then) to the Emperor. He doesn't know that his wife is the Crown Prince's mother. Chan (Li Man) is the sweet and innocent love interest of the Crown Prince. She also is not privy to her mother's secret. Prince Yu (Qin Junjie) is the youngest son and also the only dummy in the midst of some very crafty court players. He's just smart enough to realize his weakness, causing him to feel inferior and act recklessly.
The climax is an epic battle for the throne of the empire in the huge walled courtyard in front of the palace (filmed on location in Beijing's Forbidden City). Hundreds of dead bodies litter the area but pick up the bodies, mop up the blood, sweep up the stained flowers, roll out the new carpet and place millions of freshly cut yellow chrysanthemums. Let the festival begin! Tradition must not be broken.
Warning: Curse of the Golden Flower is a very sad story without a noble, heroic protagonist -- a huge departure from American movie sensibilities. For action movie fans there may be too much verbal jousting and not enough combat. The action scenes are spectacular but I can see how hard-core fans might find them too few and far between.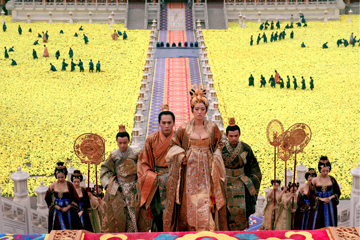 I don't consider this a weakness but to most American (and other Western) viewers Curse will come across as bewilderingly complex. There are eight fairly well developed characters and complicated relationships among them. This level of complexity is better suited to a novel or maybe a ten-hour miniseries. But TV would be a ghetto for a gifted visual stylist like Yimou Zhang. I loved the film and rank it among the very best of 2006 but I have to give you a strong admonition: do not see this movie only once. The first time I saw it I was dazzled by the beauty of the costumes and the sets and recognized four Oscar-worthy performances (Chow Yun-fat, Gong Li, Jay Chou, and Chen Jin). I also was fascinated by the story even though I didn't take it all in on the first pass. Yimou Zhang's movies (notably Hero and House of Flying Daggers) get better with repeat viewings – a very good sign in my book. When I walked out of my fourth viewing of Curse, I became convinced that Yimou Zhang is the greatest living director.
Images are copyright Sony Pictures Classics.
For more information about this film including detailed cast and crew credits, check out The Internet Movie Database by clicking here.
---
e-mail me