Pride & Prejudice
Directed by Joe Wright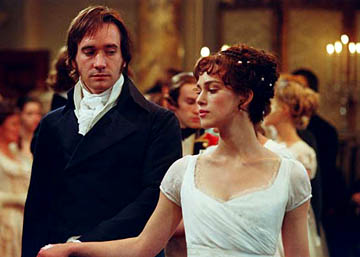 Based on Jane Austen's novel by the same name, Pride & Prejudice tells one of the greatest love stories of all time: the romance of Elizabeth "Lizzie" Bennet (Keira Knightley) and Mr. Darcy (Matthew MacFadyen). Their romance develops in fits and starts due to Mr. Darcy's pride as an aloof aristocratic gentleman and Lizzie's tendency to prejudge Mr. Darcy as a harsh, cruel man, lacking in empathy. She eventually finds that Mr. Darcy hides behind his curt, formal exterior – he's really just shy. A couple of misunderstandings between them also serve to distance them and create a tension – we know that they both want to be together but circumstances, combined with the pride that they both possess, keep them apart. A romantic comedy in the finest sense of both words, Pride & Prejudice takes us back to a more formal time – for example, Mr. Darcy is never addressed by his first name.
The subplots in Pride & Prejudice put most romantic comedies to shame. Early in the film, the Bennet household crackles with excitement when they learn that a Mr. Bingley (Simon Woods) has rented the most elegant estate in the county. Mrs. Bennet (meddling mom to Lizzie and four other young, eligible women) swings into action to snare the very eligible Mr. Bingley for one of her girls. Things look good for Jane (played a sparkling Rosamund Pike) – Mr. Bingley is interested! When she's invited to dinner, Mrs. Bennet sends her over on horseback, knowing that rain is coming so that she'll have to spend the night. Mr. Bingley and Jane appear very smitten but Mr. Darcy and Miss Caroline Bingley (his sister, played by Kelly Reilly) decide that Jane's family is beneath the Bingleys. That's one of the things that Lizzie holds against Mr. Darcy.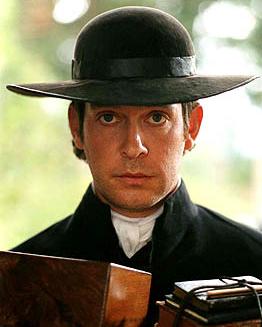 The best comic scenes belong to Tom Hollander as Mr. Collins, a clergyman and cousin to Mr. Bennet who is set to inherit the Bennets' estate since Mr. Bennet has produced no male heirs. Mr. Collins appears as an articulate little gnome whose actions are entirely driven by his perceived place in the social hierarchy – his body language is that of a well-trained dog that cowers in the presence of his patroness, Lady Catherine (a wonderfully caustic and condescending Judi Dench). When Mr. Collins proposes to Elizabeth, thinking that since she's obviously beneath him she will leap at the chance, the result is hilarious – he just can't imagine that he's being rejected – while Mrs. Bennet is horrified at the thought of one of her daughters passing up a chance at such a strategic marriage – the family won't lose the estate.
The old-fashioned formality displayed by the characters strengthens the comedy by providing contrast when things go wrong. One of the funniest, and at the same time most touching scenes has Mr. Darcy paying Lizzie a visit – she's mad at him but simultaneously falling in love – he stands stiffly, bowing, speaking polite, formal greetings – but he just can't get it right… too nervous. He paces out, flustered, as a friend of Lizzie walks in observing, "What on earth have you done to poor Mr. Darcy?".
Brenda Blethyn plays Mrs. Bennet, the five girls' mother, to comic perfection. Deploying a working-class demeanor and a determination to see the all of her girls marry well, she's the driving force behind much of the action. Donald Sutherland plays Mr. Bennet as a resigned henpecked husband who finds as much peace as possible in a household with six spirited women.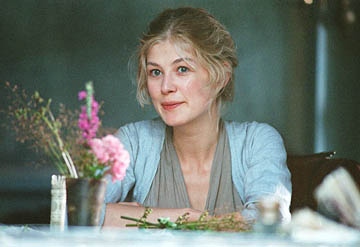 I have one little problem with casting Keira Knightley as Lizzie: in the book, Lizzie is supposed to be the plain-looking younger sister – in contrast with Jane, the beauty. The idea is that Mr. Darcy is unimpressed with Lizzie at first glance only to be won over by her intelligence, moral values and family loyalty. Keira Knightley did a wonderful job playing the part – particularly scenes where she is angry at Mr. Darcy but her face shows pangs of love – the long, conflicted route that their love took was very well played. But it's just silly to try to pretend that she's anything but drop-dead gorgeous – in that sense the filmmakers went Hollywood – glamorizing a character inappropriately. I was unfamiliar with Matthew MacFadyen (Mr. Darcy) before this film – I give him an A+. He did everything needed to develop this very complex character: starting out as the aloof, snobbish aristocrat and slowly revealing the intelligent, caring and devoted man underneath.
I could go on about the fine ensemble cast – there are many more impressive performances – I've just hit a few high points.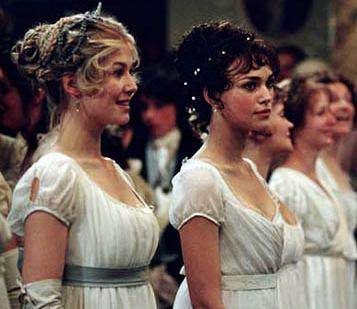 Pride & Prejudice is director Joe Wright's first feature film – his background is British TV. This visually gorgeous film turned out remarkably well given that he came from a less-visual media like television – there are so many beautiful exterior shots – in fact, while many romantic comedies engage in soft porn – presumably to please the male audience – Pride & Prejudice displays a different variety of vicarious visuals: real estate pornography. The fine old British estates used for location shooting provide moviegoers the finest eye-candy and help explain the motivation of the characters. Mrs. Bennet wants her girls to marry into those estates. Jane and Lizzie, while unwilling to compromise their principals, aren't immune to that appeal.
Overall, I loved the late 18th century production design and costuming. It's a beautiful film in every way. However, I have one little criticism: the Bennet's estate – a beautiful house and outbuildings that would cost many millions today – has to appear somewhat more humble than the estates of Mr. Darcy, Lady Catherine, and Mr. Bingley. The filmmakers accomplished that in a silly way: by having barnyard animals – mixed species -- wandering around in almost every shot. It struck me as contrived and unrealistic where most of the period details rang true.
Cinematographer Roman Osin deserves special kudos for making the entire film one lovely frame after another. To fully appreciate Pride & Prejudice, you must see it in 35mm – conversion to DVD will diminish these artful images.
Images are copyright Focus Features.
For more information about this film including detailed cast and crew credits, check out The Internet Movie Database by clicking here.
Jane Austin, who wrote ranks as one of the greatest English novelists, wrote Pride and Prejudice anonymously, as was the custom in those days. To read her Wikipedia bio click here.
---
e-mail me