Be Cool
Directed by F. Gary Gray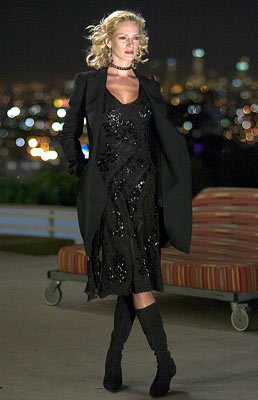 Ten years ago Get Shorty hit the theaters and now that smooth-talking devil, Chilli Palmer (John Travolta), is back. He can talk himself in or out of any situation. While the first film presented Chilli as a fish-out-of-water loan shark in L.A. trying to collect a debt and realizing that he is in fact in his element in the movie biz. That was the joke then… the filmmakers decided, wisely, not to recycle that gag but made him into a polished fixture in the industry – a relaxed, confident player. Bored with movies, he turns to the music biz, quickly hooking up with a young hottie singer, Linda Moon (Christina Milian) and a recently widowed record label owner Edie Athens (Uma Thurman.) The story, such as it is, centers around some bad-guy record execs – Harvey Keitel as Nick Carr, a menacing tough guy and Vince Vaughn as Raji, a fumbling white guy trying too hard to be a cool black hip-hop mogul. So it's good guys versus bad guys, doing all kinds of mean and nasty gangster stuff, with sweet little Linda in the middle.
This silly story only serves to set up a series of funny scenes featuring an impressive ensemble cast. A few of the characters failed to project what I believe was intended but most were very entertaining. If you liked Pulp Fiction, you probably liked – but not quite as much – Get Shorty. The humor in Be Cool is similar to those two but a notch below Get Shorty – but if you like this kind of stuff, it's still a very funny movie that you shouldn't miss.
I never would have thought that I'd be singling out The Rock (aka Dwayne Johnson) for critical praise but the guy was great! He was cast just about as against-type as possible – he's plays Elliot Wilhelm, a gay bodyguard for the bad-guy record execs – and he's just dying to start an acting career. There's always great potential in casting against type for comic effect and this is flat-out the most extreme example I can recall. In one scene, he's doing a scene from Bring It On (the cheerleader movie) where he plays two rival cheerleaders, calling it a monologue. The scene killed me and got strong response from the audience. John Travolta did very well playing the straight guy (in the old sense of the word) in contrast to The Rock's wild and crazy character. I can't help but wonder if this character was inspired by a real-life person in L.A. Any ideas?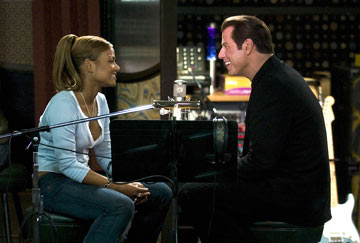 I had an interesting reaction to Christina Milian's Linda. When I saw the movie, I wasn't aware that she was primarily a singer before beginning an acting career. I wasn't sure how to interpret her first scene when she sings for Chilli – her singing seemed pretty good but nothing spectacular. Since the film is so heavily satirical, I took her character as a typical aspiring young hottie trying to break into the music biz – heavy on looks and moves with singing talent decidedly in third place. When Chilli lays praise on her performance, I took it as Chilli doing what he does – flattering to win her over. He sees potential in the whole package but doesn't necessarily see her as a singing talent. Now, on reflection, I believe that the scene was meant straight-up: the audience is supposed to be as impressed with her singing as Chilli claims to be. Similarly, I wasn't sure how to take Steve Tyler (of Arrowsmith) playing himself – at first I was inclined to see it as a parody of himself, the aging rocker who probably should have quit 20 years ago. But, again on reflection, I believe the character was meant to be taken without irony.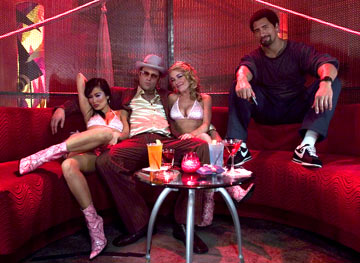 A pet peeve: when I see a live-music scene by a band or singer in a movie, I want to feel like I'm in the room. I think the sound should be at least plausibly live. That means that maybe it could be a studio cut but it should sound live – it shouldn't sound overly produced. All of the cuts in Be Cool sounded way too studio. It was too obvious that the actors were lip-synching.
Note to writers & producers -- the white wanna-be rapper has been done in so many comedies recently that the joke is wearing thin. But in this movie Vince Vaughn does a rendition of this stock character that is so definitively the best that all other attempts are rendered obsolete.
Cedric the Entertainer plays the two-faced Sin LaSalle, a zillionaire rap producer with a hard-charging entourage of hip-hop thugs who leads a double life as a doting, protective father of a young daughter. The running joke is the contrast between his trash-talking, gun-wielding business side and his warm and fuzzy father persona. Sin LaSalle is a funny character, but the gang of rappers – stereotypical uncouth, foul-mouthed and violent young black men – seemed to me too close to something I've seen too much of in film lately – it just isn't that funny anymore.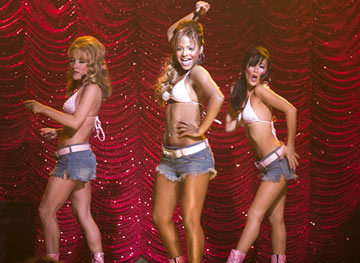 The most obvious failure in Be Cool is the weak attempt to create a romantic subplot involving Chilli and Edie. There's a dance scene where Chilli first mentions that he's from Brooklyn (code for 1977's Saturday Night Fever) then the two get out and dance – as they did in Pulp Fiction – but in that film there was a tension since Travolta's character was taking care of Thurman's character on behalf of a very scary kingpin-gangster. But in Be Cool, the scene was meant to show how they were beginning a flirtation, but it, and all the other (thankfully not many) romantic scenes fell flat – they struck me as weak and contrived.
Be Cool is a hip ensemble comedy loaded with jabs at virtually every ethnic/racial/religious/sexual group – it's not for the easily offended, but at least the filmmakers spread the jokes around. It's full of movie references, some clever, some not all that great. Be Cool isn't going to move you to deep reflection or change your life -- no heart-tugging moments -- it's a silly movie with a simple plot filled with entertaining characters played by some fine actors. Don't expect realism -- these are goofy caricatures of stereotypical people -- it's more of a relax-and-enjoy-the-ride movie. Instead of repetitive slapstick, Be Cool has extreme characters from the music biz – for that reason, I consider it a cut above most of today's comedies. Pulp Fiction and Get Shorty were very much a current hip thing in the mid-1990s. I can see how some will consider this material recycled and dated, but I found it a very funny movie.
Photographs are copyright MGM.
For more information about this film including detailed cast and crew credits, check out The Internet Movie Database by clicking here.
---
e-mail me