Spanglish
Directed by James L. Brooks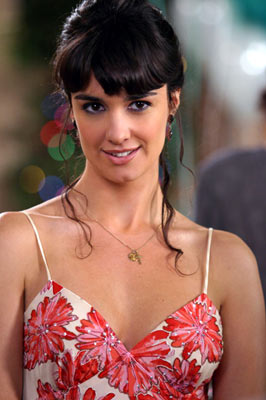 First of all, Spanglish is not an "Adam Sandler Movie". He is a brand name in the movie biz – his name at the top of the credits means something: a certain type of moronic slapstick -- the marketing for the movie might lead one to expect that -- but thankfully, the movie is a more of a heart-tugging soap-opera-style drama. Adam Sandler isn't even the lead character – Paz Vega, playing Flor, a Mexican-immigrant maid, is the main character at the center of the story – Adam Sandler has a supporting role that's nothing like the character he typically plays. Even in 2002's Punch Drunk Love (my favorite movie starring him, by the way) he played basically the same familiar character as in almost all of his movies but in Punch Drunk, the slapstick character is skillfully worked into a very smart romantic comedy.
The set-up is that Flor arrives in the Clasky household in L.A. to find a manic Deborah (played with flailing melodrama by Téa Leoni) causing her kids and husband, John (Adam Sandler) considerable frustration with her frequent outbursts.
The movie is narrated in voiceover by Cristina (Shelbie Bruce as Flor's daughter) – as she reflects, years later, on the effects of the stint her mother did at the Clasky house – and that is at the center of the movie. Shelbie Bruce is a precocious young actress playing a precocious young girl growing up in multi-cultural L.A. – excellent casting of an unknown in a pivotal role. The principal point of the story is how the interaction between the white, upper-middle-class family with the poor latino immigrant family benefited both.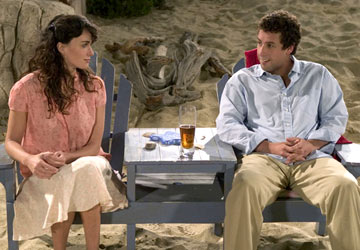 The one big soap-opera angle is how, due to Deborah's out-of-control craziness, John and Flor have sort of a flirtation – they clearly have the hots for one another but since both characters are portrayed as virtually perfect human beings, they can't have a justifiable flirtation without the extreme caricature of crazy Deborah. I think it would have played better if the Deborah character had been toned down considerably and the little romance between John and Flor would have been allowed to take on a naughty edge. Adam Sandler did a good job of creating a sympathetic, caring father character but it would have been more interesting to give him a flaw. Paz Vega (from Spain – her first American feature) brought both glamour – maybe too much glamour for a Mexican maid, but that's Hollywood -- and passion to the Flor character. My favorite scene: John and Flor having a heated argument with Cristina in the middle translating since Flor hasn't learned English yet. Shelbie Bruce (who appears to be about 10 or 11) gets to ham it up as she not only translates Paz Vega's angry words, but imitates her wild gestures – a very funny scene.
My main problem with this worthwhile film is that the characters are too extreme – Deborah is way too neurotic and insecure, John and Flor just too perfect – both in their roles as parents and in relation to the other adults. Also, John is supposed to be this critically acclaimed chef – absolutely the wrong occupation to choose if casting Adam Sandler – he should have been a tax accountant or something like that – with the sheepish personality and the nasal voice, tax-man is closer than super-chef. The production design also left me thinking – at whom are they aiming this movie? John's restaurant is the pretentious type of place that annoys me – large white plates with a tiny bit of well-decorated food in the middle – and you know the prices are huge.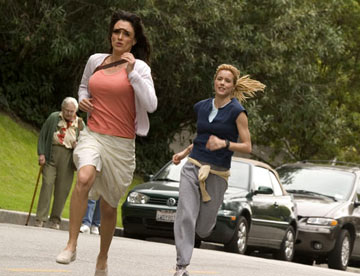 But speaking of character flaws – and how John and Flor could have used a one or two to come across as more genuine – there is one scene that I'll bet wasn't intended to signify a moral failing on the part of Flor. During the beginning set-up of the characters of Flor and Cristina, they show the two (with Cristina about six years old) getting out of a truck in Mexico and heading into the desert, rolling suitcases in tow. The way the scene was presented, it came across as cute – as in, how sweet – a mother bringing her daughter into the U.S. illegally and taking the risk of crossing the desert to boot!
Spanglish is a feel-good drama with a lot of heart. The kids' performances are notable (Sarah Steel was very good as Bernice, John and Deborah's daughter) – I think they gave the film the emotional pull that made me feel warm and happy as the end credits rolled. The movie is not highly visual, so it won't lose too much if seen on DVD.
Photographs are copyright Columbia Pictures.
For more information about this film including detailed cast and crew credits, check out The Internet Movie Database by clicking here.
---
e-mail me