Sky Captain and the World of Tomorrow
Directed by Kerry Conran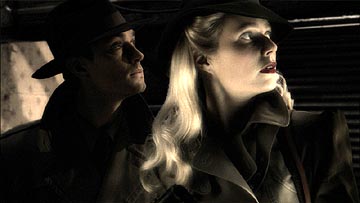 Heralded as a milestone in technical achievement, Sky Captain and the World of Tomorrow also works as an old fashioned sci-fi movie with a lot of heart. It's 1939 and an evil scientist has created an army of robots in various forms with the intent, of course, of destroying the world after taking all of the natural resources that he needs. To the rescue is Sky Captain (Jude Law as a soldier of fortune, sort of) along with his ex-girlfriend Polly (Gwyneth Paltrow as a newspaper reporter with a lot of spunk and a shortage of film.) The movie is old fashioned not only in its' old-time look (costumes and production design) but the characters remind me of those golden-age films – Polly is a spirited adventurer but not the post-feminist warrior woman that we see in so many current movies. Their banter as ex-lovers reminds me of Cary Grant and Katharine Hepburn – the emotional connection between Polly and Sky Captain is intense but not highly sexualized as in most current film. The casting of the two leads couldn't have been better.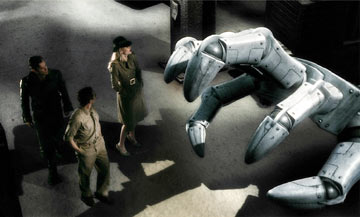 Now back to the technical – the film is entirely CGI except for the live actors (a first and maybe, probably, a trend for sci-fi, adventure, period films and others). All of the live action was shot on blue screen even to the extent of shooting each extra individually so as to maintain maximum flexibility in editing together the final take. The making of Sky Captain is a remarkable success story – unknown amateur filmmaker Kerry Conran chased his dream of making this film for four years – shooting with amateur actors and working post-production on his Mac computer – and had just six finished minutes in the can when a chance meeting with an assistant to big-time producer Jon Avnet led to a dream cast and a $70 million budget. Sky Captain is amazingly sophisticated for a first film.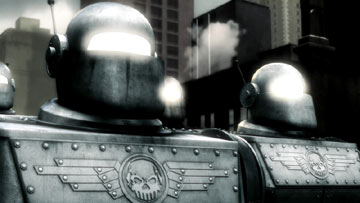 Production design by Kerry's brother, Kevin Conran, cannot be understated in importance to the overall effect of the film on the viewer. Instead of going for a realistic look, the actors are shot in soft focus while the CG backgrounds, monster robots, etc are rendered in a style that reminds me of Metropolis meets Indiana Jones. The Conran brothers have a sci-fi vision to rival George Lucas: flying robotic war drones that flap their wings like birds; giant warrior robots with arms like an octopus – I could go on. Doing all of the backgrounds in CG freed the filmmakers to be as exotic as they please: a dark, 1939 NYC infested with killer robots; a hidden city in Nepal; a giant underground headquarters for the evil scientist and his bot-army. All of the elements of the production design worked very well together – nothing seemed out of place or anachronistic.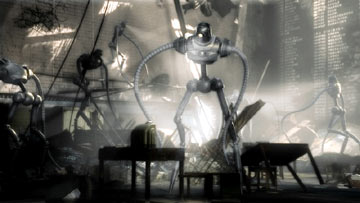 I have just a couple minor quibbles with the film. I wouldn't have cast Angelina Jolie as British officer Capt. Francesca 'Franky' Cook. She is beautiful and talented (she was great in her Oscar-winning role in Girl, Interrupted) but as the horrible Lara Croft movies demonstrate, she should not be cast in "action" roles. In action movies she seems to become stiff as a board and walk as if she has tar on her shoes. In spite of her top billing, Franky is a relatively small part, so the overall effect is minimal. I also have to give the story less than my highest rating – it fit very well with the old-time look of the film but it seemed as if I had heard essentially the same story dozens of times in other save-the-earth-from-the-evil-scientist movies.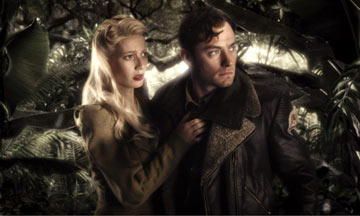 Sky Captain is the best science fiction movie I've seen in years. It combined a great cast with a solid, if slightly corny, story and an amazing use of computer-generated graphics to create one of the best looking movies of the year. Director Kerry Conran is definitely one to watch – this is an amazing debut. A lot of credit for going out on a limb for an unknown filmmaker goes to producer Jon Avnet -- Sky Captain was a very ambitious undertaking – it could be compared (in terms of risk, etc) to the Lord of the Rings trilogy.
Photographs are copyright Paramount Pictures.
For more information about this film including detailed cast and crew credits, check out The Internet Movie Database by clicking here.
---
e-mail me