Shark Tale
Directed by Bibo Bergeron, Vicky Jenson and Rob Letterman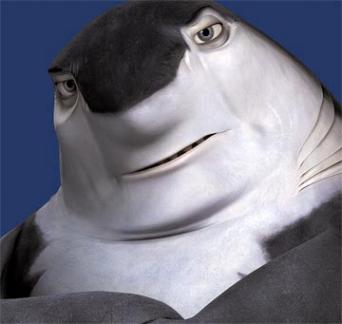 Shark Tale, the latest animated feature from Dreamworks, spoofs gangster movies to great comic effect and gives the audience beautiful 3-D computer-generated visuals to boot. The setting is underwater on a reef populated by an eclectic assortment of little fish and a group of sharks -- styled as Mafioso-type gangsters -- that prey on the little fish when they aren't having sit-downs in Italian restaurants. In spite of the gangster theme, Shark Tale isn't particularly scary -- the bad guys struck me as comic parodies of characters from The Godfather or Goodfellas. My favorite: Robert De Niro as Don Lino, the big, bad crime overlord. When I heard about the gangster premise in this film, I thought that I might find the concept tired since there have been so many movies done in the genre (scary/real and spoof). But the gangsters in Shark Tale are so well balanced – not too silly, so it doesn't sink into farce, and not too violent – that the movie works very well as a comedy. The characters are well-voiced and the graphics are, with a few exceptions, handsomely designed.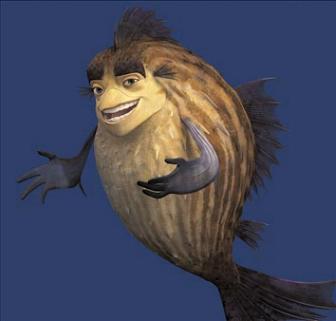 In addition to the dilemma of the threat of the sharks on the little fish, a sub-plot involves Don Lino's son, Lenny (Jack Black), who, as a vegetarian who refuses to get aggressive with the little fish, is a huge disappointment to his father. I couldn't help but suspect that Lenny's vegetarianism is used as a proxy for sexual orientation – Lenny couldn't bear to tell his father about his "food preference". But don't worry, the movie never gets preachy. Lenny's problem drives him away from his shark family and into a friendship with a little fish named Oscar (Will Smith – in the lead role as the hero of the little fish community.) Both the conflict between Lenny and his father and the conflict between the little fish and the sharks are handled with a touch of humor – the filmmakers aren't trying to bang you over the head with a too-obvious morality tale –it's all in fun.
The backgrounds are rich in detail as well as beautifully drawn. The little underwater city resembles New York – Times Square (complete with a "Coral-Cola" sign in the familiar red and white logo) is in there along with lots of other cultural references and pseudo-product placements.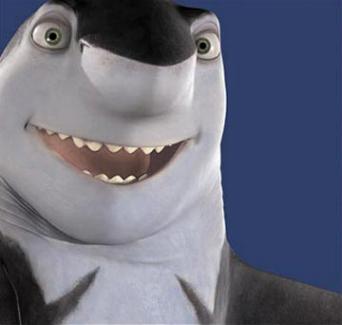 The graphic renderings of the main characters show physical resemblances to the voice actors – a clever idea. Don Lino has Robert De Niro's mouth. Sykes the blowfish (owner of the whale wash where Oscar works and a some-time ally to the sharks) has Martin Scorsese's eyebrows – to great comic effect. Angelina Jolie's Lola – a gold-digging hot number who likes Oscar only when he is rich and famous – has the actress's sultry eyes. The animated Lenny character has Jack Black's wide-eyed, little-kid-on-Christmas-morning expression. Renée Zellweger's Angie – Oscar's best friend who secretly loves him – does a worried, insecure facial expression just like you saw in Bridget Jones's Diary. All of those graphic renderings of the main characters helped to bring the animated fish to life as actors. Will Smith's Oscar was very well voiced but I was a little disappointed in the way it was drawn – as the main character in the story, they should have come up with a more interesting look for Oscar. Although their faces are interesting as fishy faces go, the fish bodies for Oscar, Lola, and Angie looked like pieces of colored fabric waving in the current. Most of the minor characters – notably the shrimp and a very engaging shellfish – are much more appealing visually than those three main characters. I loved the look of the sharks, though – their puffy bodies reminded me of the familiar overfed Sicilian wise guys from gangster movies.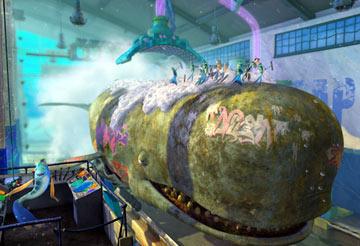 The soundtrack is full of R & B classics with emphasis on the more pop top-40 hits. This fit nicely with the pop-culture-heavy production design and references to movies made in the last couple decades. The whale wash where Oscar and Angie work is central to the plot – Oscar is unhappy working there as he dreams of somehow catapulting himself up economically and socially. So I knew that they had to play the classic hit "Car Wash" – but instead of the 1976 original by Rose Royce, they gave us a remake by Christina Aguilera and Missy Elliott. It wasn't that bad a remake but they should have gone with the original. I don't know about Missy Elliott, but Christina Aguilera's 15 minutes are over -- aren't they?
Since they're both CG-animated and set underwater, comparisons with Finding Nemo are inevitable. Shark has the funny wise guys -- which I loved – and a livelier soundtrack. It also doesn't try to be as serious and heart-tugging as Nemo -- I prefer Shark's lighter approach. However, Nemo is much more interesting visually – Pixar showed much more creativity in the design of their undersea world. Nemo also had that incredible vocal performance by Ellen DeGeneres. Shark has some very good vocal work but not quite like that. Overall, I would have to give it to Nemo.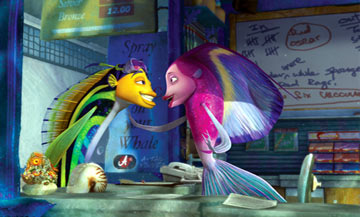 I have a little problem with the love triangle in Shark. Even though Oscar is set up to be our hero and destined to discover and attain his true love (Angie) I think he probably has more in common with the gold-digging femme fatale, Lola. He doesn't have much of a work ethic at the whale wash – he wants to get ahead but not to work for it and deceives the other little fish about his status as a hero. Angie is too good for him. He and Lola deserve each other – but that's not the obvious point of view presented on screen.
I thoroughly enjoyed Shark Tale and recommend it as an entertaining parody of gangster movies – it's well animated and well acted by the voice talent. I loved the production design and the R & B soundtrack. I have a little problem with Shark as a children's movie since the hero – who kids will tend to look up to – is a slacker who gets ahead by pulling off a scam. I'm not saying don't bring the kids, but talk to them afterward about the character of Oscar and how he attained success – that isn't how things are typically going to work in real life -- and why his actions aren't exactly an ethical blueprint for life. And by the way, you need to see Shark on the big screen – in full 35mm glory – all that cool artwork will be significantly diminished when transferred to DVD or VHS.
Photographs are copyright Dreamworks SKG.
For more information about this film including detailed cast and crew credits, check out The Internet Movie Database by clicking here.
---
e-mail me