Man on Fire
Directed by Tony Scott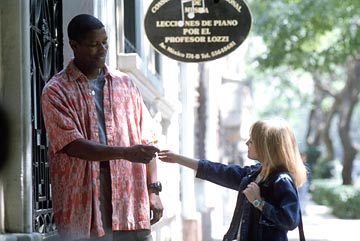 Denzel Washington's Creasy character takes his Jack with water but director Tony Scott (director of Top Gun, True Romance, Days of Thunder – among others) serves his action movies straight up. Although Man on Fire was predictable – not totally but about 90% – it was well worth the ride. The action scenes were pumped up with burned-out photography and sharp, fast editing (which I don't always approve of) that fit well with the pace of those scenes. The smartest two things they did: (a) casting Denzel Washington, and (b) allowing a longer than usual set-up – they built up a very strong attachment between bodyguard Creasy and his assignment (Pita played by Dakota Fanning). Denzel first: his performance reminded me of his Oscar-winning turn in Training Day (2001). The characters aren't the same (his dirty cop in Training Day was clearly a very bad guy while Creasy is troubled but a very good guy) but the common thread was the quiet, brooding anger and frustration of both. The long set-up showed Creasy gradually warming up to and eventually bonding with Pita and, in doing so, finding a measure of peace with himself. That set-up was very effective in drawing the viewer in emotionally when – big surprise! – the movie isn't called The Swimming Coach after all – Pita gets kidnapped! Creasy's murky background as a special op/assassin comes in handy when it turns out that there is a complex web of very nasty bad guys including dirty cops – this is Mexico City. Anyway, when he starts taking out bad guys I felt a powerful emotional hook because of the attachment to Pita. There is no Tarantino-style humor or irony in these characters – this is a well-executed, straight-up American action movie – if you go for that sort of thing, don't miss Man on Fire.
Images are copyright 20th Century Fox
For more information about this film including detailed cast and crew credits, check out The Internet Movie Database by clicking here.
---
e-mail me