Head in the Clouds
Directed by John Duigan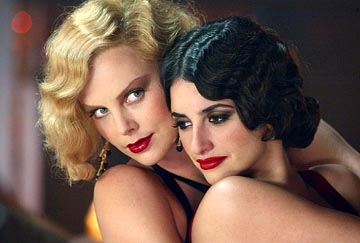 Head in the Clouds, set in Britain, France and Spain in the years leading up to and including WWII, tells a story of three young people of vastly differing backgrounds and views on life. The Spanish Civil War and WWII provide both the setting and the events that expose the differences among the three characters. Gilda (Charlize Theron) is a sexually adventurous young lady who can get away with a lot due to her family's wealth. Ms. Theron gave a highly engaging performance but I can't help but think that I've seen this character before – a very liberated woman, way ahead of her times, perhaps unrealistically so since this is movie is set in the 1930s and 1940s. Gilda meets Guy (Stuart Townsend), a bright young Irishman studying at Cambridge when she barges into his room soaking wet. They eventually become three (as in ménage ŕ trios) after Gilda acquires Mia (Penélope Cruz), a young Spanish woman committed to resisting the Fascists in her country. The main theme of the movie is how the backgrounds and personalities of the three characters determine their reaction to the turmoil going on in Europe in those years. Gilda is the rich-girl-apolitical hedonist. Guy, being Irish, appreciates the necessity for political struggle and identifies with the Spanish Republicans in their struggle against Fascism. His anti-Fascism is more intellectually developed while Mia's is rooted in her personal experience. They both go to Spain to help; Gilda thinks that's crazy and tries to talk them out of it.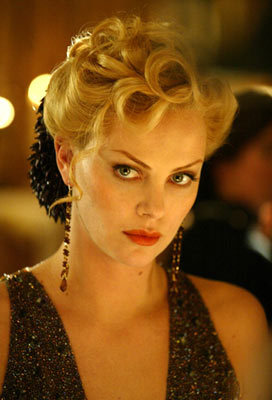 A few years later, when France is occupied by Germany, Guy is still fighting the good fight – this time as a British undercover intelligence officer helping the French Resistance in Paris. He is astonished to find Gilda having an affair with a Nazi officer. She seemingly will do anything necessary to maintain her lifestyle. Head in the Clouds doesn't get into too many details about the war – the film focuses on the characters, how they react to the situations the war imposes on them and what their reactions say about them. Guy is the unshakable idealist while the character of Gilda is more complex – she is likeable as a spirited young woman who wants the most out of life but her relationship with the Nazi officer is troubling. Interestingly, that officer (well played by Thomas Kretschmann) isn't presented as a total monster – he's not exactly likable, but the filmmakers -- wisely -- didn't overdo the Nazi character as is typical of WWII movies.
Head in the Clouds is a very good looking film – the production design is beautiful – lots of impressive period exteriors. The two beautiful lead actresses get to dress up in a variety of impressive vintage apparel, adding greatly to the overall beauty on the big screen. This movie will lose quite a lot if pushed onto DVD or VHS. I strongly recommend checking it out in a theater if the story sounds interesting.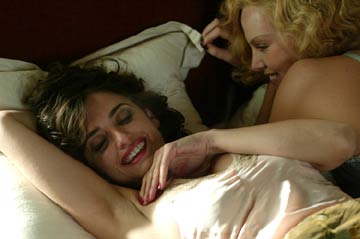 Gilda is by far the most interesting character in the film – she's clearly a sympathetic character but her choices in life are disturbing. What happens to her is really the nub of this movie. Gilda is also a little troubling in a totally different sense: that a young woman that "liberated" in the 1930s and 1940s is probably an unrealistic construct – I can't help but think that Gilda was written that way to please modern sensibilities. That reservation didn't detract from my enjoyment of the movie -- Charlize Theron's highly spirited Gilda was delightful to watch and interesting to analyze. A more docile character – meaning a more realistic 1930s/1940s woman – would have deprived the film of its most enigmatic character. Head in the Clouds is a visual delight with interesting contrasts among the characters that made me think.
Photographs are copyright Sony Pictures Classics.
For more information about this film including detailed cast and crew credits, check out The Internet Movie Database by clicking here.
e-mail me