The Girl Next Door
Directed by Luke Greenfield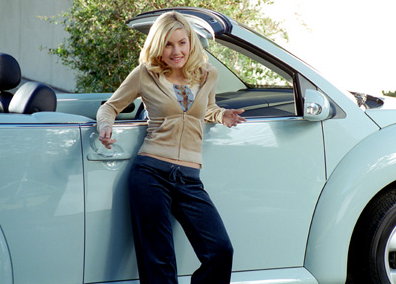 Although I didn't buy the premise – that an impossibly attractive recovering porn star (Danielle played by Elisha Cuthbert) who just fled to suburbia would fall for an awkward high school senior (Matt, played by Emile Hirsch, is unconvincing as a high school kid but likable) – the movie was saved by a good supporting cast. Timothy Olyphant plays Kelly, a porn producer who alternates between trying to re-corrupt Danielle and helping Matt become less of a goody-goody-geek-boy. The hilarious Kelly character was absolutely the best thing in the movie – the part was well written and very well played. Matt's high school friends (played by Chris Marquette and Paul Dano) also made me laugh – they came across a more believable as teenage kids than Emile Hirsh. What interests me the most about this movie is the disappointing $13 million of box office after three weeks – this is a high-concept, teenage-male fantasy. Why the low numbers? It is clearly aimed at the most desirable demographic. My best explanation is that the young males who didn't show up at the box office want something more Animal House/Porky's while The Girl Next Door tries to have it both ways: making rebellious kids into sympathetic characters while moralizing about things like safe sex and pornography.
Images are copyright 20th Century Fox
For more information about this film including detailed cast and crew credits, check out The Internet Movie Database by clicking here.
---
e-mail me