Garfield: The Movie
Directed by Peter Hewitt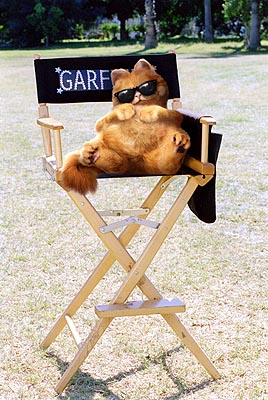 This adaptation of the classic comic strip by Jim Davis is flawed but still lovable. The lazy-cat character of Garfield is well rendered by some very nice looking animation teamed with Bill Murray's voice. His dry, sarcastic banter captures perfectly the self-centered but lovable house cat from the comics. The character of Garfield, however is the only animation in the movie - everything else is live-action - with some special-effects lip movement for the other talking animals. Full Disclosure: I have a irrational and passionate bias for movies with talking pets. The scenes from Men in Black II with the talking pug absolutely saved the movie for me. In this film the dialog between Garfield and the other animals is so entertaining to me that I could watch it over and over. The character of Opie (the dumb dog in Garfield's house) is very well done as well - I loved the dog but could see why he drove Garfield crazy. Anyway, the plot has Opie get kidnapped and Garfield has a change of heart, does something out of character - something unselfish - and goes to Opie's rescue. It's corny but it works in a silly way.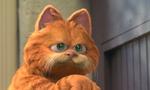 The big problem I had with the movie concerns the human characters - the film makers could have deleted them and made a much better film. Breckin Meyer stars as Jon, Garfield's master - the comic strip's Jon is kind of a shy, lovable guy who doesn't connect too well with other humans. Breckin Meyer's Jon is more of a slapstick fumbler who comes across as much less sympathetic and likable but way too cool compared to the comic strip version. And then there's the contrived romance between Jon and Liz (Jennifer Love Hewitt) - absolutely absurd given the character of the comic-strip Jon - a babe like that would never give him the time of day. I guess that screenwriters and producers feel the need insert a romantic subplot in these movies - in this case it ruined the character of Jon and therefore changed the relationship between Jon and Garfield - one of the most interesting aspects of the comic strip. That flaw didn't spoil the movie for me, however, the good parts were just so much fun to watch that I wouldn't mind another go.
Images are copyright Twentieth Century Fox.
For more information about this film including detailed cast and crew credits, check out The Internet Movie Database by clicking here.
---
e-mail me