Envy
Directed by Barry Levinson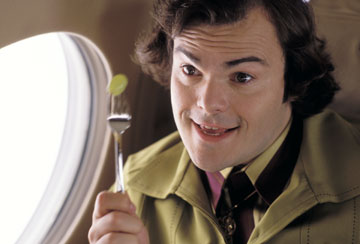 What a colossal waste of talent – recruit one of my favorite comics, Jack Black, as well as the great Christopher Walken and then you waste them on this hideously unfunny script. The premise is that Nick (Jack Black) has an idea for a spray that can eliminate dog poo – so we have 90 plus minutes of excrement jokes while Tim (his neighbor and best friend played miserably by Ben Stiller) gets jealous at Nick's success. Director Barry Levinson has made movies that were both funny and thought provoking -- Diner and Bandits come to mind. Envy is an annoying film – it throws attempted humor at the audience at an alarming rate – some of the sequences with Jack Black are funny when he is essentially playing himself – but 90% of the comedy falls flat.
Images are copyright Dreamworks SKG.
For more information about this film including detailed cast and crew credits, check out The Internet Movie Database by clicking here.
---
e-mail me