The Door in the Floor
Directed by Tod Williams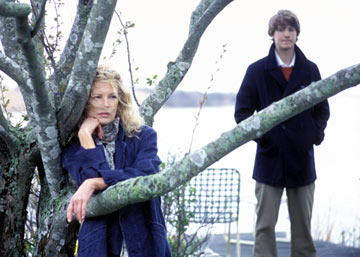 A sad drama about a couple who have never recovered from the deaths of their two sons years ago, The Door in the Floor slowly reveals how the talented but tormented and estranged couple, Ted (Jeff Bridges) and Marion (Kim Basinger) not only can't get their own lives straightened out but damage the lives of others in their sphere. Marion has an affair with high school-aged Eddie (Jon Foster) - it starts out as just a "Mrs. Robinson" affair (meaning lucky Eddie) but soon his infatuation causes him emotional turmoil - hardly harmless to young Eddie. The funny thing is, as culpable as Marion should be, I couldn't blame her since she seemed to be unable to help herself -- her grief is debilitating. Then there is four-year-old Ruth (Elle Fanning), Ted and Marion's daughter who was born after the boys' deaths. The little girl's life has been channeled into grief over the brothers that she never met - the house is decorated with their photos. The emotional damage done to Ruth is only briefly discussed on screen - it would have been interesting to see that expanded - and the implications as to the culpability of Ted and Marion explored.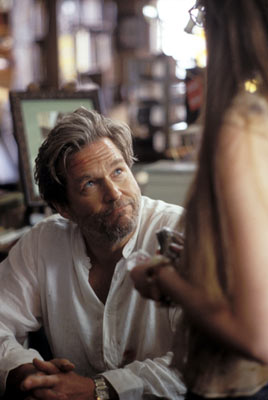 My favorite part of this film is Jeff Bridges's Ted - the viewer gets to know Ted gradually over the course of the movie -- my opinion of him evolved over time as I saw more and more. Ted, a very successful writer and illustrator of children's books, has a hobby of conning women to model nude for him - eventually humiliating and enraging them. In one of my favorite scenes, one of Ted's models (Mimi Rogers) gets so mad that she chases him, first with a knife, then with an SUV. The scene is hilarious, given all of the abuse from Ted that preceded it. The film is so heavy and serious that it needs more comic relief - one of my few criticisms - just a couple more scenes like that chase would have worked well -- without any danger of diminishing the impact of the main theme - the long-term effects of a family tragedy. In another great scene - very well played by Jeff Bridges - he is in a bookstore talking to a smitten college girl; she gets a metaphor from one of his books just about as ridiculously wrong as possible; and he, after a momentary reaction to her remark, catches himself and returns to being charming since he sees her - and her mother -- as possible recruits for one of his art projects. Ted is one of the most interesting characters I've seen on the screen in quite a while. An egotistical artist who drinks too much, Ted has the ability put on a modest face and be charming when it suits him. The same beaming smile we saw in Seabiscuit is on his face but here, behind the face, there is a tormented and frustrated man who has no idea of how to work through his troubles so he spreads them to the people around him. Ted's a sociopath but I still liked him and felt sympathy for him.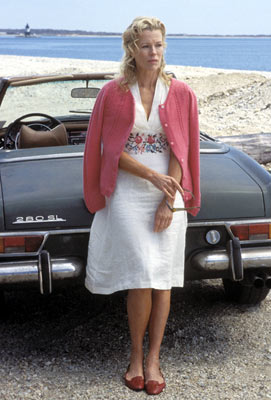 The Door in the Floor is set in the Hamptons -- summer time - in a huge house right on the beach -- so there's beautiful cinematography of the beach and the zillion-dollar house and grounds - Ted and Marion have it made but they're miserable - but in a fascinating way. The overall tone is just so unhappy that I'm surprised that it got funded by Hollywood -- but then again the cast is great. I recommend this film highly but with one caveat: this is a very sad story - a bummer movie - an intellectually engaging bummer movie - but a movie where profound sadness is omnipresent with no realistic hope of escape for Ted and Marion. The best that the viewer can hope for is that the other characters get away from Ted and Marion -- escape the toxic environment -- and are able to go on to lead happy lives.
Images are copyright Focus Features.
For more information about this film including detailed cast and crew credits, check out The Internet Movie Database by clicking here.
---
e-mail me