Crimson Gold (aka Talaye sorkh)
(in Farsi with English subtitles)
Directed by Jafar Panahi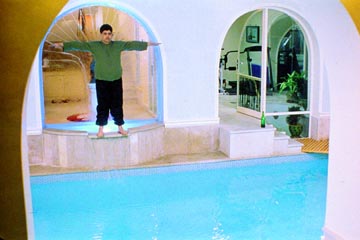 This tragic tale told in flashback concerns a frustrated pizza delivery man in present-day Iran. What we see in the first scene is the sad ending of Hussein (Hossain Emadeddin -- the actor did well with little dialog) -- the rest of the film tells the story of how he got there. Hussein is clearly too bright for his menial job – I didn't know that they even had pizza delivery in Tehran – which partly explains why his frustration builds. The series of incidents that anger him tell an interesting story of the character's life but the real payoff for me was that each scene gave me a glimpse into present-day Iran.
The Hussein character functioned as a device for showing how a reasonable person (in the eyes of the filmmaker anyway) would react to things like police who stake out an apartment building all night just to catch some young people who had been partying (quite illegal in Iran – naughty!, naughty!)
Crimson Gold took me to an interesting place where I had never been so I found it well worth the trip. Shot on a low budget, the photography, production design, costumes, etc. are nothing special so if you miss this in the theater it won't lose too much as a video.
Images are copyright Wellspring Cinema
For more information about this film including detailed cast and crew credits, check out The Internet Movie Database by clicking here.
---
e-mail me