Connie and Carla
Directed by Michael Lembeck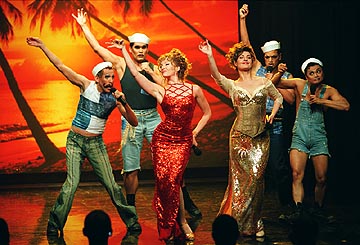 I had grave doubts when I saw the trailer – a high-concept, art house film about two women, on the run from the mob, who pose as drag queens performing in a cabaret. Although flawed by unfunny slapstick and excessive political correctness, the film works as a musical comedy -- which we don't have enough of these days. The talent of the two leads, Nia Vardalos as Connie and Toni Collette as Carla, carried the film. Nia Vardalos (from My Big Fat Greek Wedding, which I enjoyed but thought somewhat overrated) is fantastic as a struggling dinner theater performer from the Midwest who is thrust into an urban gay community – the set-up is a classic fish-out-of-water -- that worked for me. Ms. Vardalos also wrote the script. The scenes that really make this movie are the song and dance numbers featuring Connie and Carla. Since they are supposed to be drag queens (why not "female impersonators"? -- I'm not sure) they get to wear wild costumes and give stylized performances that would be over the top in another setting. Another thing that worked pretty well was the developing romance between Connie and Jeff (a straight guy who is reconnecting with his estranged gay brother – well played by David Duchovny from X-Files). The twist there is that Jeff thinks Connie is actually a man but likes him as a friend he can talk to. Most viewers will have to suspend disbelief to buy into the idea of Nia Vardalos passing as a man but it was good silly fun. The problems I have with the film: (a) the goof-ball gangsters chasing Connie and Carla were neither funny (weak slapstick) nor convincing as scary thugs (I guess the filmmakers didn't want any hard edges.); (b) the film felt a little too didactic because of a double dose of political correctness – gay acceptance -- which fit pretty well with the setting but they could have toned it down and been more effective -- and fat acceptance (in the form of speeches to the night club crowd) – why did they have to get into that?
Images are copyright Universal Pictures
For more information about this film including detailed cast and crew credits, check out The Internet Movie Database by clicking here.
---
e-mail me