Born Into Brothels
(In Bengali with English Subtitles and Some English Dialog)
Directed by Zana Briski and Ross Kauffman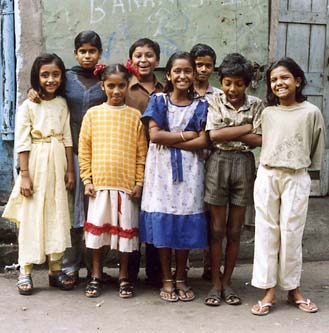 As a reporter, should a documentary filmmaker get involved with his or her subject? Born Into Brothels was originally conceived as a documentary focusing on Calcutta's red light district. The problem: the prostitutes refused to cooperate with the filmmakers. But Zana Briski and Ross Kauffman persisted, moving into a boarding house for months at a time and living with the women and their children.
The project morphed into a story about the children – they were not only willing subject but fascinating on screen – very lively and resilient – remarkable given their circumstances. I can't help but think that it was a lucky accident that the filmmakers had to abandon focusing of the prostitutes. Ms. Briski, a photojournalist, decided to give photography classes to the kids – giving each kid a point-and-shoot camera and getting together with them on a regular basis, while filming the documentary. So not only did she insert herself into the story as the main character, but became their champion, trying to get them into boarding schools and setting up shows of their photographs, both in India and in New York. The story became how she struggled to influence their lives. There are formidable obstacles – schools that want nothing to do with children of prostitutes, the legendary Indian bureaucracy which makes it next to impossible to get a passport, and, surprisingly, the mothers of some of the kids, who don't seem to want them to escape that environment. Often, too much explanation can ruin a film, but in this case I was very curious about why the mothers apparently didn't want their kids to get in good schools and escape the red light district. Particularly with regard to the girls, it was hard to understand how a mother wouldn't want to help her daughter avoid "joining the line."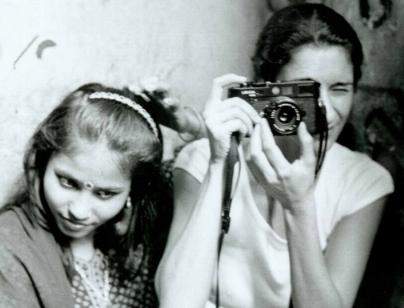 Not all documentary filmmakers are effective in front of the camera. Zana Briski did very well both in terms of screen presence and rapport with the kids. The kids themselves are so endearing that it's impossible not to be touched. In spite of their circumstances, they light up enthusiastically… you can see how much they love their newfound hobby.
Born Into Brothels could be a case study for a film school class – a classic case of how to tell a compelling story using a series of images. Both the still shots (made by the kids) and the accompanying moving-picture documentary footage show who the kids are and how they throw themselves into to their project. The images are both very colorful and interesting – a typical western viewer is transported to a place he is unlikely to visit. Brothels isn't a typical feel-good movie about a dedicated do-gooder helping underprivileged kids. Although Ms. Briski definitely helps the kids, the film shows her failures and frustrations as well. It comes across as very realistic and never preachy.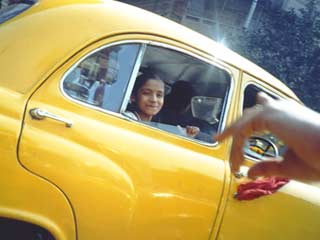 Born Into Brothels won an Oscar for best documentary feature of 2004. It's an impressive looking film – intensely colorful and full of detail. Considering budgetary constraints they did amazingly well. Every image is very well composed and the story comes together nicely thanks to skillful editing. I also liked the soundtrack – lots of Indian-style strings and percussion.
Photographs are copyright ThinkFilm.
To see more of the kids' photos and more background about this ongoing project go to the kids-with-cameras official website by clicking here.
For more information about this film including detailed cast and crew credits, check out The Internet Movie Database by clicking here.
---
e-mail me