Bon Voyage
(in French with English subtitles)
Directed by Jean-Paul Rappeneau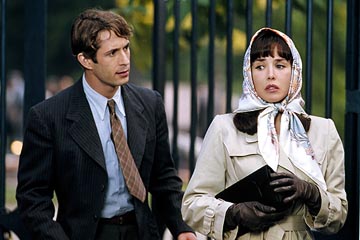 Isabelle Adjani (as Viviane) is red hot as a 1940's movie star with the power to bend any man to her will. I've seen that character in many movies – this is the best rendition in memory. Bon Voyage is a comedy set in France as it falls to Germany at the start of WWII. The survival of the republic is uncertain, the Nazi tanks are closing in, nuclear weaponry may fall into the wrong hands but all the men can think about is HER. This isn't quite dark humor but it's close – the idea is to laugh at desperate people at a time of crisis. They never overdid the farcical humor to the point that it got too silly – or historical angle would have been diminished. It was quite a balancing act – to maintain the tension inherent in Parisians fleeing the Nazis while making the viewer laugh at Viviane's flirtations with certain collaborators (and maybe actual Nazis!)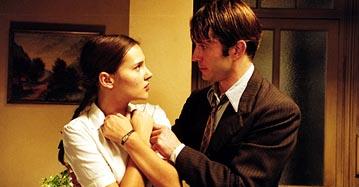 The visual elements – photography, costumes, production design -- for this period piece are very well done which added to the big-screen experience.
Photos are copyright Sony Pictures Classics.
For more information about this film including detailed cast and crew credits, check out The Internet Movie Database by clicking here.
---
e-mail me