Bobby Jones, Stroke of Genius
Directed by Rowdy Herrington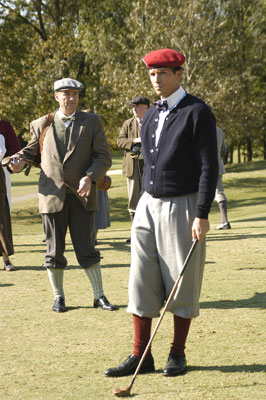 This biography of golfing legend Bobby Jones explores the drive and sacrifice required to compete at the highest level. Starring James Caviezel as Bobby Jones and Claire Forlani as his wife, Mary, the film paints a picture of a troubled man by the standards of the day – he drank and spent a lot time on the golf course, leaving little time for his family – but compared to today's athletes, those flaws are so mild (think Mike Tyson or O.J.)! The filmmakers could have explored that contrast – it would have been interesting.
Beautifully shot on various locations including the legendary Old Course in St. Andrews, Scotland, this is a very attractive film visually – it will lose some of that power if degraded to video. Overall, despite good performances from all of the cast (including one of my favorites, Jeremy Northam – remember Gosford Park? – as an arch-rival) I just didn't feel the strong kick that I should have from the main theme of the movie: the virtues of dedication to sport, amateurism, and fair play. If you're interested in golf (I'm not) you probably should check it out but otherwise take a pass.
Image is copyright Film Foundry Releasing
For more information about this film including detailed cast and crew credits, check out The Internet Movie Database by clicking here.
---
e-mail me