Beyond the Sea
Directed by Kevin Spacey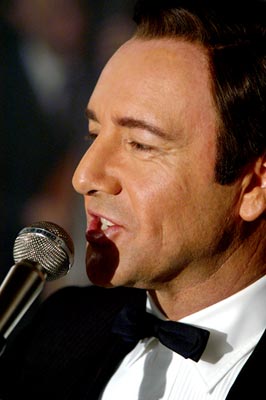 Kevin Spacey opens his labor of love, Beyond the Sea, with a nod to the audience – he is asked on-screen if he's too old to play Bobby Darin (Darin died at 37 while Spacey, at 44, plays Darin starting as a very young man.) The short ice-breaking scene is a plea to work with me… I know I'm old for this role, but give me a chance. I was familiar with this project well in advance of seeing the film so I was prepared for the 44-year-old actor playing the young Darin. It worked for me but I can see how some people might find that a stretch.
Kevin Spacey, who wrote the screenplay as well as directing and playing the lead, shepherded this project through years of development – he's obviously a big fan of Darin. To succeed at a high level in show biz takes tremendous motivation, so all film and music stars certainly have it. I think Spacey and Darin not only shared a high level of drive but tended to wear it on their shirt sleeve more than most. Spacey has always impressed me as a push-push, get-it-done kind of performing artist and that quality was an essential element in Bobby Darin's life story – Bobby knew his life would be short (due to a childhood illness, he had chronic heart problems and wasn't expected to live as long as he did) – so he lived every day with an intensely focused agenda to succeed not only in several musical styles but in film as well. As such an ultra-motivated artist himself, Spacey didn't have to stretch to convey that essential quality in Bobby Darin.
Kate Bosworth was very well cast as 1950s/60s blond bombshell Sandra Dee – possibly best known for playing the lead in 1959's Gidget. She married Darin after meeting him on a movie set. Kate Bosworth shaped the character as a very young woman with little formal education who nevertheless had the street smarts to achieve and hold onto her status as a major star for more than a decade. The contrasting personalities of Sandra Dee and Bobby Darin helped to illustrate how driven he was – as much as he loved her, he could hardly contain his ambition to succeed in every arena possible.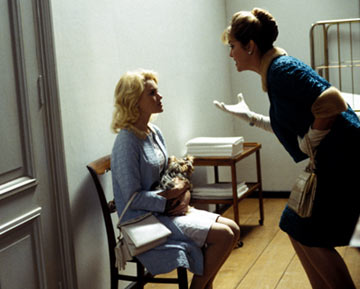 My favorite scenes in Beyond involved Greta Scacchi as Sandra Dee's intense stage mom. When Bobby played up to mom, she ate it up, but when he started romancing her young daughter, she went ballistic. Stage mothers have long been a rich source of humor in movies set in show biz – she was the funniest character in this film. The smartest thing about the character: they had the good judgment not to overdo it – every scene with her was hilarious and they left me wanting more.
I think I've figured out something about Kevin Spacey's on-screen persona – common to almost all of his movies – he has a swagger, a hipster swagger that's different from a jock's swagger – it says 'I'm cool and I don't care if you get it or not'. That quality fit perfectly into his Bobby Darin character.
Spacey is a talented singer and managed to mimic Bobby Darin's vocal inflections perfectly, but he just doesn't have a voice like Darin. My one major complaint about Beyond the Sea is the absence of the real Bobby Darin's voice. I don't know if it was a problem obtaining the rights or a creative decision, but I missed the actual recordings of the songs. Even if they used Kevin Spacey's voice during his on-camera numbers, they could have put in Bobby Darin's recordings in scenes where Spacey isn't shown singing. Having Darin's classic version of "Mack the Knife" play over the end credits would have been a perfect ending.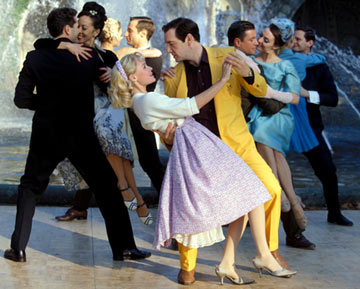 Beyond includes several dance numbers that had a 1950s-musical look – very nice, sharp looking, with flashy production design and costuming from that colorful period. The scenes set in Italy (while Darin romanced Dee on the set of 1961's Come September) were also beautifully produced, adding to the visual appeal of the film. Overall, the movie has a bright, uplifting look -- a good idea -- some filmmakers would have been tempted to make a sad, dark film, given Darin's illness and early death.
While Beyond is a very good looking movie that's meant to be appreciated in a theater, it isn't so visually oriented that it would be tragic to see it only on DVD. The strength of Beyond is in the characters – you'll get all of that from the DVD.
Bobby Darin's career is summarized pretty accurately in Beyond the Sea -- his start as pop star in the early years of rock-n-roll, followed by his greater success as Rat-Pack-style crooner, and his less-successful attempt reinvent himself as a politically-oriented folk singer in the mid to late 1960s. I think that Beyond could have been a little clearer that his "crooner" phase was, by far, his most successful and those songs – notably 1959's "Mack the Knife" and 1960's "Beyond the Sea" – form the core of his legacy.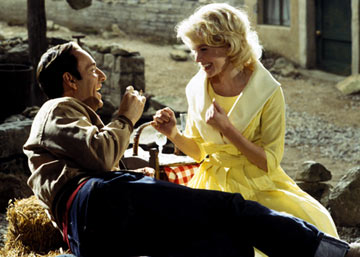 Darin was an incredibly versatile artist wrote, sang, acted and dabbled in so many musical genres that you couldn't cover it all in a two hour movie. The movie does succeed in portraying a highly motivated and talented young man who had no time in life for anything that slowed down his ascent to stardom – Kevin Spacey did a great job of capturing that. The most interesting angle is the parallel personalities that I see -- between Kevin Spacey and Bobby Darin – which make Spacey just the right guy to play Darin – screw the age difference.
In the year of so many biopics, Beyond ranks up there with the best – maybe a notch below The Aviator. As a director, Spacey is no Martin Scorsese and this film isn't as visual as The Aviator but the underlying material – the short life of a fascinating artist make this a must-see for all music lovers.
After my second viewing -- my reaction to a few things about Beyond changed. I now believe the film could have been edited down by about twenty minutes or a half-hour, mostly by reducing the screen time devoted to his later years as folk singer – it's important to make the point that he went through that phase but that could have been done more quickly. Kate Bosworth's performance grew on me – particularly when I compare it to her earlier films: 2000's Remember the Titans and 2002's Blue Crush -- both good movies that I recommend. She has made considerable progress as a performer. It's interesting to watch a young actor develop over the early years of a career. I remain committed to the idea that Kevin Spacey is the best actor to play Bobby Darin. I've read quite a lot of criticism centered around his age but I didn't find it hard at all to go along on that point.
Photographs are copyright Lions Gate Films.
For more information about this film including detailed cast and crew credits, check out The Internet Movie Database by clicking here.
---
e-mail me